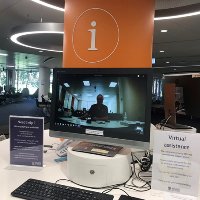 Saturday, 4 April 2020
The University Library prides itself on providing innovative and engaging physical and digital spaces and services. In response to the rapidly changing situation around COVID-19, the Library has been using technology to further reimagine and virtualise its services to limit disruptions and ensure staff and students can practice safe social distancing, and support and enrich remote teaching and learning.

Virtual kiosks

The enquiry desks in each library have been transformed into virtual kiosks with Library staff providing client support via MS Teams. As a result, Library users continue to be greeted by a welcoming smile when they enter the building and still receive one-on-one, real-time assistance with wayfinding, troubleshooting student IT systems and borrowing from the collection while maintaining the safety of themselves and others. Anecdotal feedback from Library users has been positive.

The Library recently introduced an expanded live chat service for the majority of users who are off-campus studying, teaching and researching remotely, thanks to a collaborative project with IT Services, and the CRM and Web teams. As of 23 March, the live chat functionality now appears on every Library webpage. It is proving to be a popular way for Library users to receive real-time assistance at the point of need, receiving more than 12 times as many queries as previous weeks.

Learning Skills Advisor and Librarian online consultations

The popular WRITESmart drop-in program, run in collaboration with STUDYSmarter , has been adapted to respond to the shift to online learning. The program usually runs daily from 10am to 12pm during semester in the Reid Library. It provides students with the chance to meet face-to-face with learning skills advisers and librarians for study, proof-reading and editing tips, and advice on finding information and referencing. Using the new online service, students can access the same support by choosing an appointment time that suits them to meet virtually with either a STUDYSmarter or Library staff member via MS Teams.

Within a meeting, Library staff can share their screens to demonstrate how to use databases and find information, and how to use various software programs such as EndNote. Students can also share their screens to allow Library staff to troubleshoot issues. The service is available to students from anywhere as long as they have access to the internet. The flexibility and ease of use of the new system has allowed the service to be extended and extra appointments to be offered where needed to respond to demand.

Impromptu brief consultations with librarians have also made the transition to online, with students now able to receive one-on-one virtual assistance in using OneSearch and other sources to find information for their assignments, referencing, and managing their unit readings, amongst other topics. These consultations are being carried out via email, MS Teams or Zoom (sometimes a mixture of more than one) and the benefits of being able to share screens and remote control have been well received by students. The technology also allows for demonstrations of systems to be recorded for future reference which improves efficiencies in the delivery of this service.

Virtual information literacy classes

Teaching offerings from the Library have been redesigned into flipped virtual information literacy classes. A recent example was a session on systematic reviews presented to psychology students via Zoom and recorded. A representative from the School described it as a "splendid initiative" and circulated the link to all the PhD students.

The Library is also developing a suite of learning objects that can be embedded in LMS units to support teaching and learning, using a variety of software tools including Canva, Articulate Storyline and H5P, and will make them available on the Springshare LibGuides platform. The suite will cover topics such as the key concepts and mechanics of referencing, specific referencing styles and assessing source quality. The objects can be used to reinforce and support concepts and skills covered in class. It is intended that some initial objects will be launched in time to support online teaching in Semester 2, with plans to further develop the suite in response to feedback and demand from teaching staff.

The Library's transition to virtual services, while prompted by the changing COVID-19 circumstances, has led to new and innovative approaches to service delivery that look set to influence and enhance our ongoing services in a post-COVID world.
Tags
Groups

Education Quarterly