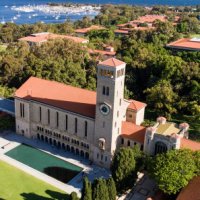 Friday, 3 April 2020
Dear UWA staff,
It is astonishing to think that just a month ago we were worried about bushfires, and the month before that the climate wars were alive and brutal.
Across Australia this year has been a challenging one for so many of us – but especially for our students. This is supposed to be " the time of their lives " as it was for so many of us. Their carefully laid study plans interrupted, dreams of overseas exchange dashed and much of this against the backdrop of financial and family pressures. Some of them are your children and grand-children.
That's why my message today, which contains information about extended financial hardship grants for students, is important so please read on. Our students will also be receiving this information today and if you know of any students in need, please encourage them to apply for one of these grants.
Just as important is your wellbeing. No need to be strong and silent. Reach out if you need to and please consider registering for an upcoming webinar with our Employee Assistance Program (details below) and making use of our Health and Wellbeing resources and team as they will have the skills to help you.
In short:
Financial hardship grants for students
Employee Assistance Program webinar
Find all previous staff and student COVID-19 emails online
Financial hardship grants for students
We have had many distressing emails from some students (International and Domestic) who are experiencing enormous difficulty due to the loss of their income and other circumstances, mostly related to COVID-19. So we have responded as we must and the University has introduced a COVID19 Financial Hardship Grants scheme.
The scheme amounts to $1 million. Funds will be used to support on-shore students who are most in need, with one-off financial grants due to the impact of COVID-19. Students will be assessed on individual circumstances that will take into account factors such as low socioeconomic status.
With much of the fund generated from philanthropy, the University extends its gratitude to our generous donors for their continued passion and support of our students.
Employee Assistance Program webinar
All staff are invited to join a webinar next week, where we'll have an expert sharing ideas to keep you healthy, well and productive while working remotely.
Becoming accustomed to working from home and settling into a completely different way of life for an unknown period of time may be daunting for some of us – it certainly is for me! Alongside these changes, some might be facing uncertainty regarding financial security, and then the big change of isolation from family, friends and colleagues is doubtlessly setting in. The need to support our students to keep going in their new online world is stressful and the constant daily media would wear down even Mother Teresa.
It is vital we each attend to our own physical and mental health, and keep an eye on close colleagues and the wider team. The webinar will be presented by Sharon Richens, a Wellbeing Specialist and Physiotherapist with the UWA Employee Assistance Provider PeopleSense.
Register via this form .  Date : Thursday 9 April. Time : 1.30-2.30pm
Find all previous staff and student COVID-19 emails online
I know we are sending a lot of information out to you, often on a daily basis. If you'd like to go back and review any of these emails, you can find copies of all coronavirus-related emails online.  Some have you have asked to see them, here they are.
Staff emails:
https://www.web.uwa.edu.au/novel-coronavirus/all-staff-messages
Student emails:
www.uwa.edu.au/students/covid-19-information-for-students#latest-student-emails
We've made it to the end of our second week of online teaching for all students and the first week where most of us are working from home – we've all done remarkably well by any benchmark. Some of you were convinced it could not be done but we are here, intact and energised and connected. Simone de Beauvoir, the French feminist philosopher, summed it up nicely: " One's life has value so long as one attributes value to the life of others, by means of love, friendship, indignation and compassion" .
For now - it's the weekend. Take care, get some rest, wash your hands and see you next week when we will do it all again.
Best,
Jane
Professor Jane den Hollander AO
Vice-Chancellor
Tags
Groups

UWA Forward