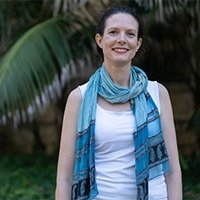 Friday, 3 April 2020
Six early career researchers from The University of Western Australia researching topics such as how their self-image influences the way leaders lead others and how to stop deadly bacteria from accessing sugar in the body have been selected to present their research at the 2020 FameLab Western Australia semi-final.
The competition, broadcast online for the first time this year, invites viewers at home to watch Australia's brightest minds discuss their STEM-focused research in three minutes or less.
UWA doctoral and postdoctoral researchers, who represent half of the semi-finalists this year, will explain why their research can make a difference in our changing world.
PhD candidate Charlotte Birkmanis, from the UWA Oceans Institute and School of Biological Sciences, is investigating where open ocean sharks are located, why they are there and whether they are being protected.
"This research is very important because open ocean sharks regulate our ecosystems, and we don't know much about them," she said.
Claire Doll, a Forrest Research Scholar in agricultural economics, is examining if the public values the 'greenness' of parks and if people would be open to more sustainable, brown-coloured plants in their public spaces.
"Everyone can relate to parks and we want to make sure that public recreation spaces are designed in sustainable ways, while still benefiting communities," she said.
Dr Darja Kragt, from UWA's School of Psychological Science, is investigating how leaders develop thoughts about themselves and how their own self-image shapes their behaviour, which influences the way they lead others.
"Leaders are very important in the workplace and this research will highlight the need for more good leaders in our workforce," Dr Kragt said.
Ana Paula Motta, a Forrest Research Scholar from UWA's School of Social Sciences, is exploring the role of traditional Indigenous practices in the Kimberley region and the development of Australian conservation management through data analysis of rock art.
"This research highlights Indigenous understandings of animals and how this has changed through time," she said.
Dr Casey Lister, also from UWA's School of Psychological Science, is studying language evolution, the way in which people create new languages, and how our ancestors created their original languages.
"The ability to use verbal language is a fundamental difference between humans and animals, which is why it is important to explore the evolution of our language," Dr Lister said.
Clare Moran, from UWA's School of Pathology and Laboratory Medicine, is investigating how to block some of the deadliest bacteria in Australia from accessing sugar in the body, a key ingredient they need to grow and spread.
"This research will allow us to reduce our reliance on frontline anti-microbials, and swap to a different method to fight bacteria," she said.
The 2020 FameLab Western Australia semi-final will be available to watch online from Monday 6 April on the FameLab website .
Media references
Nicholas Smith (UWA Media Officer) 08 6488 1888 / 0411 644 492
Tags
Channels

Events — Media Statements — Research — Science — University News

Groups

Oceans Institute — Psychology — School of Biological Sciences — School of Social Science