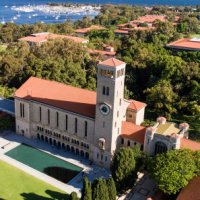 Thursday, 2 April 2020
Dear UWA staff,
Thank you to everyone who sent through feedback in response to my emails yesterday. I greatly appreciate you taking the time to do so. Thank you also for your questions and suggestions: we are now working through the finer details and will be in touch.
In short:
FAQs about online exams
Access to UWA buildings from Monday 6 April
University IT services
Managing Zoom classes
Flu vaccinations
Changes to Transperth services from Monday 6 April
Media enquiries
FAQs about online exams
Many of you have questions about how Examplify, our new online exam software, will work. Some of you raised these in emails yesterday.
We have published an FAQ guide that includes information on technical requirements (e.g. operating systems and webcams), and we will be adding to this guide as more information becomes available over the coming days.
This is one approach to managing the semester 1 examinations. It may be something we use once, in these dire circumstances, so that our students are enabled to keep progressing. It may, on the other hand, give us ideas on assessment 4.0 in the sunnier days to come after this pandemic. I hope we treat it as an interesting project and learn from it as who knows what might be possible.
Access to UWA buildings from Monday 6 April
Although the majority of staff are now working from home, the Crawley campus will continue to be accessible. Buildings will be locked from Monday 6 April, for reasons of security and staff and student safety.
Staff can access their place of work at all times but will need to use their access card to do so. If you intend to access your particular workplace and remain there for any length of time, please inform Security by calling 6488 3020 or emailing [email protected] .
If you are concerned about your personal safety on campus, please contact Security who will be happy to assist.
Reid Library, Beasley Library and J Robin Warren Library will continue to remain open as per previous communications.
Please note power to all buildings will be unaffected. Air conditioning will be ramped down but staff who continue to work on campus will not notice a difference. Research facilities with specific environmental condition and monitoring requirements will continue as normal.
University IT services
With the decision to move learning online and with most staff now working from home, University IT is working to maintain a high level of service.
The rapid pace of change has meant that Uni IT staff have been diverted to support priority needs, such as ensuring online learning technology and remote collaboration tools are fit for purpose. Uni IT is continuing to rapidly develop solutions to meet University needs and we anticipate that this work will be ongoing for some time.
This means that some activities have been put on hold while we focus on the highest priority work. All non-critical upgrades and functional enhancements are paused for the next six months or until we are safely through the COVID-19 crisis. The exceptions to this are any security or performance issues.
This may cause some inconvenience but be patient – it's better to be connected and safe than sorry is the logic behind this approach.  I am sure you will mostly agree.
Managing Zoom classes
As universities around the world move their classes online, 'zoombombing' has unfortunately become a new trend. This happens when meeting participants (who are often not from your class) interrupt a meeting with offensive chat or imagery.
You can stop this by:
Using a random meeting ID instead of your personal meeting ID
Restricting screen sharing
Allowing only signed-in users to join the meeting (i.e. restricting access to students in your class)
Locking the meeting to stop new participants joining after the start time
Removing disruptive participants
Disabling audio and/or video from selected participants
Turning off screen annotation
Disabling private chat
Learn more about these techniques on the Zoom blog .
'Zoombombing' is not acceptable and is in breach of our student conduct regulations .  If you would like additional help in managing Zoom classes, please speak with your Associate Dean (Teaching and Learning).
Alternatives to Zoom: You may wish to use an alternative to Zoom, such as Teams. Learn more about different platforms on our EDUFlex website .
Flu vaccinations
The UWA Medical Centre is now offering flu vaccines in an outdoor clinic. To book an appointment, call 6488 2118 or book online . Please be aware of the following information:
Make sure your Medicare or OSHC insurance details are current
The flu vaccine is $20, CARD ONLY (NO CASH)
Vaccinations will be held in an outdoor clinic at the Guild Village courtyard
For convenience and privacy, please wear a t-shirt or sleeveless top
More information on this process, and the form to complete for new patients, is available on the Medical Centre website .
While the flu vaccine doesn't protect against COVID-19 infection, it is still recommended this year for at-risk groups and health care workers, and to prevent an increased load on the health care system from people falling ill with seasonal influenza. Vaccine administration is taking place in a well-distanced outdoor setting, outside the UWA Medical Centre.
Changes to Transperth services from Monday 6 April
Transperth has announced a reduction to public transport services.
From Monday 6 April, services will revert to Saturday timetables for all routes.  As a result, route 950 will offer a reduced number of services daily, whilst routes 96 and 97 will not operate.
Transperth offers other routes that can be used to access UWA campuses. You can find details of other services and the planned changes on the Transperth website .
Car parking is currently available for free at all UWA car park locations, regardless of whether or not you have a parking permit.
Media enquiries
We are a trusted research institution and as such, many of our academics receive requests to provide expertise to media. If you receive such as request, please contact UWA's Media Office , who will be able to assist you with both logistics and advice.
So another week begins to flash by and 2 weeks of online is almost done, and all the while we watch the world, with deep sadness as the virus continues its journey.
Alongside this I have been inspired by your wonderful emails and the spectacular support from so many of you to place leave bookings and hence assist in our efforts to survive and thrive – it is humbling.  It reminded me of a Dr Seuss saying: "Unless someone like you cares a whole awful lot, nothing is going to get better. It's not."
Best
Jane
Professor Jane den Hollander AO
Vice-Chancellor
Tags
Groups

UWA Forward