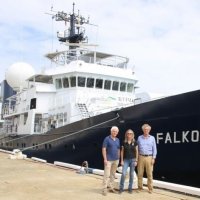 Thursday, 2 April 2020
The Falkor, the 83-metre-long oceanographic research vessel, was home to a team of international scientists lead by Dr Julie Trotter, an ARC Future Fellow from UWA, on a month long expedition to explore the unchartered depths of the Bremer, Leeuwin, and Perth submarine canyons located off the south west coast of Western Australia.
While the waters above these canyons are known as biodiversity hotspots, the mysterious deeper waters were unexplored. The hunt was on for deep-sea corals using a deep-sea remotely operated vehicle (ROV), dubbed SuBastion.
Though these deep dives aren't without the inherent challenges of exploring in the cold weather of the Southern Ocean with the immense pressure and currents of the deep sea. Nether the less our intrepid scientists persisted to embrace this opportunity.
"This was a very rare opportunity indeed for Australian researchers to actually undertake deep-sea research in our own backyard," Dr Trotter says of the expedition.
On board the vessel and supporting chief scientists, Drs Trotter and Montagna, were four Italians from the Institute of Marine Sciences and University of Padova, together with the Ocean Institute's Professors Malcolm McCulloch and Chari Pattiaratchi, Dr Aleksey Sadekov, UWA's Dr Greg Skrzypek, and OI's Carlin Bower who assisted with field operations. As well as six UWA students, undertaking a once-in-a-lifetime learning opportunity.
Oceans Institute Director Professor Peter Veth says of the ground-breaking 32-day journey.
"The quality of the seabed mapping, deep sea specimens and benthic sampling are at global best and have important implications for the sustainability of these ecocsystems, as well as similar habitats worldwide," Professor Veth said.
"Deep-water data like this is crucial for accurate modelling as science works to predict ocean-climate dynamics in a warming world and I'd like to thank each and every person involved for their remarkable contribution."
The ROV, SuBastion, completed 17 dives, despite a few technical hiccups along the way. With a suite of sensors and scientific equipment the team of scientists was able to gather seawater data, strategically collect samples in-situ, and record high-definition (4K) videos many of which are available on the Schmidt Ocean Institute Facebook page.
"A number of remarkable discoveries have already been made, before even embarking on our extensive geochemical programme," says Dr Trotter, "We've revealed a stunning array of deep-sea corals hosting a range of organisms and forming numerous mini-ecosystems, which precariously hung off large vertical cliffs or clustered together as 'gardens' on the continental shelf,".
Despite being so far from home the research vessel remained connected with us back on shore through their incredible live streams. A number of schools in Perth, Albany and Italy were also lucky enough to take part in a ship-to-shore program, giving them the chance to interact directly with scientists onboard the Falkor while it was at sea, including the chance to ask questions.
Now you can read all about the exploration and their discoveries in the full article here: https://www.uwa.edu.au/projects/falkor-story
Media references
Tina Zhang (Oceans Institute Communications)     (+618) 6488 3732
Tags
Channels

International — Science

Groups

Oceans Institute