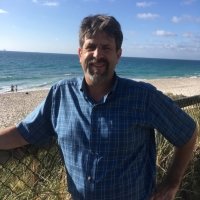 Thursday, 2 April 2020
The son of a marine biologist and palaeontologist, Dr. James Hehre was born with a love for oceans and science. Raised in marine labs around the world and inspired by his scientist parents, James' career in marine science seems almost inevitable.
"My mother still jokes that I was raised in a tide pool. In that sense I imagine its destiny that I would eventually become the Operations Manager for a Marine Research Facility."
James' life has always involved his love for nature, and with his keen sense of curiosity didn't hesitate to start exploring it from a young age.
"I have always been a biophile and it never really mattered what kind of animal. I was the kid that filled the bathtub with frogs' eggs and snakes."
Aside from nature, James also loves all things bikes, whether they're bicycles or motorcycles. In his words, "if it's got two wheels, I can crash it." So, you may see him out there speeding along on his way to work.
James arrived at the IOMRC for a short 5 month stay on an Endeavour Fellowship and is still here 8 years later! Originally from New Hampshire in the USA he travelled throughout the US and Canada before landing in Perth and falling in love with Australia. He became officially Australian last year along with his wife and young daughter.
Like his long journey to Australia, his journey to becoming the Operations manager at IOMRC had some interesting turns. He took a step back from research as he ran an ecotourism business in the San Juan Islands near Vancouver for 12 years. But this only reinforced his desire to study and help the oceans and so he returned to the world of marine science.
"In the end it was difficult to participate in the tourism side of things as the whales were dying off, and I knew it was time to finish my degree and try to get out in the world to try to do something to help save oceans."
James has now been at UWA since 2012 as a leader in various roles. His first job was supervising the Environmental Research Lab and the Hydraulics Labs in CEME. And in 2015 he took on the role of Operations Manager for Prof. Jessica Meeuwig's Marine Futures Lab. Now he brings his wealth of experience and experience to us at IOMRC.
"I think one of my strengths is that I have a global network of contacts that I can bring to the process and this will have significant implications for helping to develop IOMRC's role worldwide."
While it may seem destined for James to work with the IOMRC, in his role as Operations Manager's he will be working with, and melding,  organisations with both shared and  unique priorities, cultures, and strengths. James has a keen desire to help unite our partner organisations to reach our goals and celebrate our strengths.
"Diversity is a real asset and we need to make sure that we utilise it as much as possible. I would like to say that there is an amazing team here at IOMRC and everyone brings something to the table which has certainly made stepping into the role so much easier."
In his role as Operations Manager, James handles the day to day management of both the IOMRC building and the Watermans Bay facility. He also takes care of some the basic operational management tasks, such as space allocation, establishing safety processes, and setting up experiments. He looks forward to working with the team here at the IOMRC to study marine science and reach our goals within his new role.
"The cool part is that the partners at IOMRC are keen to implement an overarching plan to make IOMRC a global destination for Marine Research which is something I feel like I can really sink my teeth into."
Whether by destiny, random happenstance, or just some good choices on James' part we're glad to welcome him into our team and our community here at the IOMRC and look forward to working on many great projects together!
Media references
Tina Zhang (Oceans Institute Communications)     (+618) 6488 3732
Tags
Channels

Appointments — Science

Groups

Oceans Institute