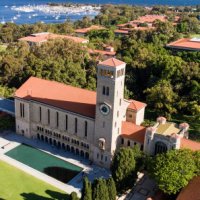 Wednesday, 1 April 2020
Dear UWA staff
This is the second email today: The email this morning was so important it seemed sensible to give it the respect it required. This has meant a second email with information more generally of relevance to the current situation.
Pleasingly, the early signals seem to indicate that the nation as a whole has stayed at home and the infection rate may be slowing. In our satisfaction with that effort, we remember that others are going through the worst of times. To ALL of you with relatives outside Australia, take care to connect and stay strong for them. We may yet need their comfort.
This email is broadly about tuition matters. Thank you to everyone who has been working to adapt our teaching to online methods. I know this has been a huge effort, and I appreciate the work that everyone has done on this and it was most gratifying to receive such a wonderful acknowledgement of this work from our Chancellor earlier in the week. Be very proud.
In short:
Assessment guidelines
Online exam software
New admissions pathway for Year 12 ATAR students
Assessment guidelines
Some staff and students have expressed concern around exams and assessment. We previously guaranteed our students that exams and assessments for all units will be delivered online or remotely.
This disruption to assessment methods will impact on individual students differently, and we have therefore put guidelines in place to ensure fair and equitable assessment.
The following process will apply to our undergraduate coursework units that are not part of professionally accredited courses:
Students will complete their assessments and exams online or remotely.
Students will receive their final grade.
Students who have passed the unit can then choose to accept their grade OR accept an ungraded pass.
An Ungraded Pass will mean that students can opt out of having their marks for the semester (or for individual units) contribute towards their weighted average mark (WAM).
I believe this is a student-centric solution that recognises the extraordinary circumstances we are in, and won't unfairly disadvantage students.
Please note:
Units that form part of professionally accredited courses will need to ensure their assessments align with accreditation (or revised accreditation) requirements.
Honours and postgraduate units (and select undergraduate units) may have differing assessment guidelines.
Assessment methods will differ by unit but may include online exams, oral exams (viva voce), continuous assessment or an ungraded pass.
Semester 1 exams will commence on Saturday 6 June.
Online exam software
The University is in the processes of procuring Examplify, an assessment program developed and licensed by ExamSoft. This program allows students to securely sit examinations, remotely downloaded to their device (both Windows and Mac). Access to the Internet is only required to download or upload the exam but not required while completing the exam. The software includes features to ensure academic integrity.
More information for academic staff and students on technical requirements, as well as an FAQ page, will be available soon. I am hopeful staff will be able to trial the software before it is launched.
New admissions pathway for Year 12 ATAR students
UWA has introduced a new admissions pathway to help Year 12 ATAR students concerned about a substantial interruption to their studies due to COVID-19. This decision, confirmed by the Chair of the Academic Board included a wide range of staff involved under the education strategy umbrella.
The standard ATAR-based entry pathway will still be offered but students will now be able to apply for entry based on their predicted ATAR from the end of Year 11. Some students may still need to attend an interview to identify any additional support that may be required, including bridging units, once they arrive at UWA. The approach is tiered, it is also innovative and more inclusive and should serve us well in our aspiration to attract the best and the brightest. I commend Professor Graham Brown for his thinking and initiating the project, and to all the staff who engaged in the tough discussion to reach an agreed and useful solution: thank you.
The full details on strategy and process are being written up and I fully expect to have that circulated to all staff shortly. This is simply to give you a heads up that the matter is live in the community and we are responding to Schools, reassuring them that they and their Year 12 classes are front of mind for us.
If you have any questions or concerns about any aspect of tuition, please contact your Associate Dean (Teaching and Learning) or email me directly at [email protected] .
I finish with this quote from Maya Angelou, the American poet who said​: " I've learned that people will forget what you said, people will forget what you did, but people will never forget how you made them feel ". Many families with Year 12 students will be feeling better about the news of our amended Year 12 entry application and admissions process. We have done well today.
Take care
Jane
Professor Jane den Hollander AO
Vice-Chancellor
Tags
Groups

UWA Forward