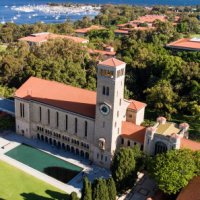 Wednesday, 1 April 2020
Dear UWA staff
These last few days we have all been glued to news bulletins and social media checking the progress of COVID-19, now affecting every city, every village, every snow field and every beach around the world. It is truly a global phenomenon, fiercely infectious and macabre in its ferocity. It is the stuff of a Sci-Fi book or movie — remember Outbreak and Contagion — only worse because we're living it.
It's causing havoc to the way we live and it is causing havoc to how every business in every country around the world operates. The better news in WA is the slowing increase in infections but that still means many numbers of people will get ill and need hospitalisation.
The education business, our business of creating knowledge and educating the next generation, is not immune and we are going to have to make some adjustments to get through the next six to 12 months.
There are significant challenges we have to face together: we need to assume we will have fewer commencing students in Semester 2 and additionally, increased numbers (relative to prior years) of our Semester 1 students have deferred or taken a leave of absence, mostly because parents want them home. They will be back but probably not this year. This means revenue will decline. Alongside this, we are unable to sell physical assets at this time because value has declined and there are probably no buyers as everyone is in the same boat.
So, we must act decisively to protect our future.
Several of you have written to me with good suggestions about what we should do in this regard. This has informed my thinking and after useful discussions with the National Tertiary Education Industry Union (NTEU) and Academic Staff Association (ASA) about these issues, I wish to advise you of some immediate actions and I have a request for you to consider.
Firstly, I have decided to make a financial contribution back to the University and all members of the Executive have agreed to take a 20% reduction in salary for the period.
Secondly, we have also decided to pause on the following activities:
External recruitment : requests to advertise vacancies externally will be put on hold for the next 6 months effective from today. Only those vacancies that are considered essential or funded from external grants will continue to external recruitment and then, only after current staff have been provided with an opportunity to apply. Priority for filling vacant positions will be given to colleagues whose roles cannot be done at home and would otherwise not have enough work to do.
Travel : the current limits on international and domestic travel will reduce our travel costs significantly. Budget allocations for travel in 2020 will be reduced accordingly.
Entertainment : the current physical distancing requirements and working from home arrangements will assist us to reduce our events and entertainment cost significantly.
Sabbatical applications : will be deferred until next year. Over 80% of applications last year included international travel which would not currently be allowed by government.
Professional Staff Development Grant Scheme : will be deferred until next year, consistent with the approach to sabbaticals.
All capital spending : all uncommitted expenditure on equipment and infrastructure will stop. Our large building projects already contracted and underway will continue however most capital expenditure other than those fully funded by external grants or philanthropy will be paused.
Project spending : non-essential uncommitted projects will be deferred, including those related to the Transformation Program.
External consultants and contractors: all contractual arrangements will be reviewed, all non-essential work will cease and we will seek to understand where engagements can cease prior to planned contract periods. Aligned to reduced travel and entertainment and to reduce discretionary spend, all UWA credit cards limits will be reduced to $1, except for those staff currently remaining overseas and those staff requiring them for essential services. The Chief Financial Officer will be able to assist as required.
Additional information about how these initiatives will be implemented will follow through normal channels.
Turning now to my request : Many staff at UWA have relatively large annual leave and long service leave balances. As at February this year, over 500 staff have annual leave balances of more than 30 days and over 1,400 staff have fully accrued long service leave balances. This all adds up to just over $30 million on the University's books. You have worked hard to accumulate this leave but the auditors view this entry on our balance sheet as a liability risk, and it is better to address these matters now so we are prepared for what is to come, particularly if the University must move to borrow to ensure its cash flow.
I am asking everyone with positive leave balances to consider taking as much of it as possible between now and the end of July – the more the better. Those of you who are able to take it earlier will be helping even more. It will save jobs. If you are persuaded, and I hope you are, please book it in now so we can account for it on the balance sheet and it will help decision making.
Alongside this request, we have an agreed process to reduce annual leave of more than 30 days in our Enterprise Agreement and I will be writing to colleagues in those circumstances this week to invoke that process. We also have an agreed process to ensure that colleagues take long service leave within five years of its accrual. We will also be writing to colleagues with long service leave to commence that process.
It is now, during this astounding and distressing period, that we all have the opportunity to make a personal contribution to responding to this crisis and secure the future sustainability of our University. In light of the forecast risk to our financial position, we will not be in a position to cash-out annual or long service leave. I regret this but note that we are all in a better position than many in our community who have lost their jobs.
It is likely that we will need to take more action in Semester 2 as this pandemic progresses through its cycle. This will include talking to Governments about a loan. The aim is to preserve UWA jobs and your help is needed now to achieve that outcome.
Many of you will have seen the government's JobKeeper Scheme that was announced yesterday. While that Scheme may be helpful for some of our subsidiaries and associated entities such as UniClub and UWA Sport (and we are reaching out to them to help), the University is unlikely to meet the criteria to be eligible for the financial assistance.
All of this is distressing. If you are concerned about the impact of COVID-19 on your work, I would encourage you to speak with your manager. You and your manager can also seek advice from your HR Business Partner​ .
The University is now 109 years in the making. I accept and recognise that the University has had a turbulent and unhappy period over the past few years. But now it's different. This is about our future and I do not say that lightly. I say this because we are a community that can work together to ensure safe passage to calmer waters. In another 100 years I hope these moments will be vague history and probably forgotten. In order for that to happen we must face the reality that we, like everyone else in our community, will be affected by this pandemic. We must begin now to plan in order to survive and thrive.
My hope is to guide us through this moment successfully and collegially with as few casualties as possible. It will be how you measure my brief time with you, but much more importantly, we must give it our best shot as our children and grandchildren are depending on us.
Best
Jane
Professor Jane den Hollander AO
Vice-Chancellor
Tags
Groups

UWA Forward