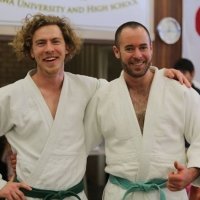 Tuesday, 31 March 2020
Classes around the world have begun transitioning online in a bid to minimise the spread of COVID-19, and the UWA Judo Club is no exception.
As of the 20 March, UWA judoka now learn and practice in the comfort of their own homes.
Students are virtually brought together with the help of Plannet32 Solutions, a video conferencing system enabling coaches to teach up to 100 judoka simultaneously.
With multiple coaches working together in all lessons, the UWA Judo Club can continue to personally monitor the technique of each individual student, while cheering them on and giving live feedback.
Activities have also been strategically modified with a greater emphasis on fitness and fundamental techniques in order to suit the space that students are now training in.
The junior members have especially enjoyed the online classes, as it has become a social outlet for students to meet, chat and laugh with each other.
The feedback from students and parents has been positive.
"It's so much more than just watching a video," said one parent. "At challenging times like this, it is important to keep mentally and physically healthy."
If would like some small tips and tricks to stay active, please visit sport.uwa.edu.au
Media references
Lisa Yang
UWA Sport Graduate Officer- Marketing
6488 2286
Tags
Channels

Sport

Groups

UWA Sport