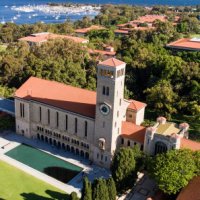 Monday, 30 March 2020
​​Dear UWA Staff
As Chancellor of the University of Western Australia I have been kept up to date with the University's response to the coronavirus pandemic, continuing its teaching and research missions and taking initiatives related to the fight against the virus.
Along with Members of the Senate generally, I have been deeply impressed and encouraged by the energised and focussed approach of the University community under the leadership of the Interim Vice-Chancellor, Professor Jane den Hollander.
In so many different areas of the work and life of the University, staff and students are responding to the challenge in what seems to be a new collegial atmosphere. The good working relationship between the Executive, the NTEU, the ASA and the Student Guild is just one example of that collegiality. If there is a silver lining to the heavy burdens being laid upon everybody by the pandemic, it may be the emergence of a new and greatly enhanced organisational culture. Further, we may be seeing the foundations laid for ways of carrying out our mission which will enable us to adapt better to a post-pandemic world. These include the creative use of technology for interactive online teaching.
Importantly, the University has had to respond not only to the coronavirus but also to underlying, ongoing budgetary issues which it has been facing for some time. These continue to be addressed with encouraging results.
We are utilising the expertise of our researchers and leading scientific and medical experts for the task of fighting the virus. These include modelling of the effectiveness of different social distancing measures, the production of components for medical equipment and the creation, with others, of a WA-based hub for the pandemic response in conjunction with the World Health Organisation.
We have identified over 40 staff with skills necessary to assist in COVID-19 testing which is such a vital means for containing the spread of the virus.
Heavy burdens have been laid upon everyone and the response of the University community will be a defining moment in its history. On behalf of the Senate I would like to express our deep appreciation to all of you who make up the University for your commitment to doing what has to be done and more.
Hon. Robert S French AC
Chancellor
​The University of Western Australia
Tags
Groups

UWA Forward