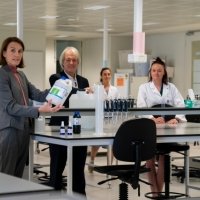 Friday, 27 March 2020
Some vulnerable groups such as the elderly, small businesses and people in self-isolation from COVID-19 will be provided with hand sanitiser through a new initiative led by The University of Western Australia, in collaboration with UWA's local Federal MP, Celia Hammond.

UWA scientists are making the sanitiser in the science laboratories using the World Health Organisation's formula, having received approval from the Federal Minister for Health via the Federal Member for Curtin.

The University is also engaging with WA Government authorities to see how any surplus sanitiser can be put to best use, and exploring further ways the University can support the COVID-19 response.

UWA Professor Tony O'Donnell, Executive Dean, Faculty of Science said the University had world-class laboratories and a team of experienced scientists.

"We are in a strong position to be able to make a difference in the community at a very difficult and challenging time," Professor O'Donnell said.

"The University takes its responsibility to the community very seriously and we are keen to help in any way to provide solutions to this pandemic."

Ms Hammond has undertaken to distribute the hand sanitiser, manufactured by UWA scientists, to vulnerable groups in the community.

"I have been talking to a number of local residents, organisations and businesses in our community and access to hand sanitiser is almost non-existent. This is a real concern for those people who are self-isolating and vulnerable," Ms Hammond said.

Ms Hammond is planning on distributing the hand sanitiser to those most vulnerable in the community.

"I want to ensure that those people who are most vulnerable, self-isolating and are at risk of contracting Coronavirus can have access to hand sanitiser, but also ensuring those businesses and organisations that are staying open and providing essential services can access this important product to practise good hygiene."

Professor O'Donnell said the use of hand sanitiser would play a big role in preventing the spread of COVID-19.

"Preventing the transmission of this virus is critical and hand sanitiser is an effective way to do so. At the moment there is a real shortage of sanitiser with vulnerable groups in the community most at risk from an adverse reaction to the virus."

Professor O'Donnell said the University may also be able to support the State Government if it had to ramp up testing by providing qualified staff who could carry out the testing.
Ms Hammond praised the University for its service and said this was a great example of the community working together for a common goal.
"In times of adversity our community has always come together to find solutions to problems and to support each other," she said. "This is another great example of the fantastic service that UWA provides and I commend the great staff at UWA and Professor O'Donnell for taking the initiative to help get this idea off the ground."
Media references
Jess Reid (UWA Media and PR Adviser) 08 6488 6876
Louis Meyer (Celia Hammond MP Adviser) 08 9388 0288
Tags
Channels

Media Statements — University News

Groups

Science Matters