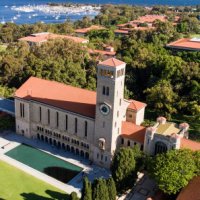 Wednesday, 25 March 2020
Dear colleagues,
You are probably getting a little tired of these missives, but please do take a minute to read as we are now in heading into unchartered waters – the aim as I understand it, is to flatten the curve which effectively means slow down the rate of infection. This will enable hospitals to keep going. We are playing our part in this endeavour.
Please find below the latest updates on the University's response to the current situation.
In short:
Working from home
IT support
University Library
Innovative research from UWA
Working from home
Last night the Prime Minister again stressed the importance of physical distancing. Where you can't maintain a distance of 1.5m between people at work, please talk with your manager who has the discretion to assess and approve your request to work from home. Should your request be approved, we ask that you complete the Working From Home Application form and return it to your Finance and Staff Resourcing Team .
We recognise that in these extraordinary times, you may face additional personal pressures. Our Employee Assistance Program can provide advice and support.
You have my word that current additional priorities and workloads will be taken into account in performance appraisal discussions towards the end of the year. This is something that has been raised with us by the local branch of the National Tertiary Education Industry Union (NTEU) and the Academic Staff Association (ASA) and we have met with them to discuss their concerns. We appreciate the extraordinary effort that has gone into moving teaching online and supporting the University transition into new ways of operating at this time.
IT support
The IT Service Desk is currently experiencing a large increase in calls and incoming tickets.
All requests are being prioritised and handled as quickly as possible. To assist with a prompt response, the IT Service Desk may provide you with a documented solution to resolve your enquiry. If you do receive a response from IT with this type of information, please follow the steps outlined. If you still experience issues, contact the IT Service Desk with your ticket number for further support. If you contact the IT Service Desk by phone, please be patient and stay on the line and one of the analysts will address your enquiry as soon as possible.
University Library
To improve the University's ability to achieve required social distancing in the interests of staff and student safety, and align with recent Government advice, from Thursday 26 March, the Barry J Marshall, Centre for English Language Teaching, and Education, Fine Arts and Architecture libraries will close to students.
The Reid, Beasley Law and J Robin Warren libraries will remain open to support students who have no alternative access to computers or WiFi to complete their studies. The Reid Library will be open 8am–5pm (Monday-Friday) and 12-5pm (Saturday-Sunday), and J Robin Warren and Beasley Law libraries will be open 9am-5pm (Monday-Friday). We will ensure that students using these spaces are adhering to physical distancing guidelines.
The Library will be open online, and there will be a range of virtual services to support staff and students.
Innovative research from UWA
In this difficult time, we are continuing our tradition of producing research for the benefit of the community. If you have a moment, I'd encourage you visit our news site to read about the innovative work UWA researchers are doing in response to this situation:
So here we are, online and with innovation across the campus as clever people find ways to keep educating and doing what needs to be done. As Robert Kennedy so famously said: " we live in interesting times. They are times of danger and uncertainty; but they are also the most creative of any time in the history of mankind ". Our actions are proving this point.
Take care and stay safe.
Best
Jane
Professor Jane den Hollander AO
Vice-Chancellor
Tags
Groups

UWA Forward