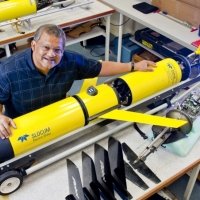 Wednesday, 25 March 2020
Over 70 scientists from across 16 different institutions have united to launch a new 'living document' that offers unprecedented insight into Australia's vast and valuable marine estate.
The State and Trends of Australia's Oceans Report (STAR) was launched on 3 March and is the result of 18 months of dedication from global leaders in marine science, including Prof Chari Pattiaratchi, and Drs Yasha Hetzel, Prescilla Siji and Paul Thomson of the UWA Oceans Institute.  The report was led by Anthony Richardson and Ruth Eriksen from CSIRO.
Working with over a decade of data from the Integrated Marine Observation System (IMOS), the STAR team produced 27 time series for data sets that span the major pelagic ecosystems around Australia's sweeping coastline.
These data provide robust scientific information on key indicators of marine system health, including physical, chemical and biological trends, many of which have been made available for the first time.
Against a background of changing ocean conditions, including global ocean warming and acidification, these trends reveal regional variations as well as the influences of seasonal climate variability. A dive into the data shows evidence of extreme events, such as marine heatwaves, increasing in frequency and intensity over the decade.
Prof Chari Pattiaratchi, leader of the IMOS Ocean Gliders facility, highlights the unprecedented quality of these data and their significance in changing our understanding and management of Australian oceans in the context of sustainable development.
"To have over a decade of data covering such a diversity of parameters is rare on the global stage. There are many fluctuations across the different time zones and geographies covered by this data. This report highlights how our oceans are changing," Prof Pattiaratchi says. "There are many different stakeholders involved who will find these data useful in different ways: from government agencies and other policy-makers, to academics, researchers and students, to the general public, these data will have a significant societal impact."
Envisioned to be a 'living document', this report is fully digital and will be updated to include new insights and datasets as they emerge. Prof Pattiaratchi hopes that this innovative and adaptive format will lead to greater collaboration across the oceans research community.
"We are seeing rapid innovation in reporting technology," Prof Pattiaratchi says. "Normally, we would write a report, publish it, and perhaps publish an update in 5 years when our understanding changes. Now, with this fully digital report, we can keep updating it seamlessly. There is also the opportunity for new contributors to expand the variety of parameters and ocean conditions studied to broaden our collective understanding."
The State and Trends of Australia's Oceans Report, alongside all other IMOS data, is freely available to the public online. https://www.imosoceanreport.org.au/
Media references
Tina Zhang (Oceans Institute Communications)     (+618) 6488 3732
Tags
Channels

International — Research — Science

Groups

Oceans Institute