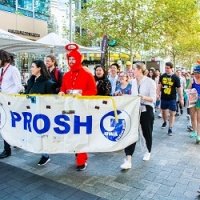 Wednesday, 25 March 2020
For the first time ever, The University of Western Australia's student newspaper PROSH will be sold online to raise money for three local charities.
The funds will go to Fair Game Australia , founded by UWA graduate Dr John van Bockxmeer, which delivers health programs and recycled sports equipment to disadvantaged communities; Short Back & Sidewalks , a charity that offers free haircuts to the homeless and disadvantaged; and Dogs' Refuge Home , which works to find loving homes for abandoned dogs.
PROSH, a UWA Student Guild initiative, is the oldest and most successful single‐day charity event in the country run entirely by students. Since its inception in 1931 PROSH has raised at least $2 million for more than 100 charities.
Originally due to take place last Wednesday 18 March, but postponed due to event restrictions resulting from the COVID-19 outbreak, PROSH will now be distributed entirely online.
UWA Guild President Bre Shanahan said the generosity of the people of Perth would play a big role in a supporting the student-led initiative and the deserving charities.
"Dedicated student volunteers spend hundreds of hours putting together a satirical paper full of tongue‐in‐cheek articles, controversial advertisements and more," she said.
"The Guild is extremely proud of the volunteering tradition started by PROSH and how it has flourished on campus over the decades.
"We are confident that support from the UWA community in moving to an online platform, and the generosity of the public will help us raise some funds to support these charities during a difficult time."
The PROSH paper, charity information, online donation links and merchandise can be found here
Media references
Bre Shanahan (UWA Guild President) 6488 2294 / 0411 893 626
Jess Reid (UWA Media and PR Adviser) 08 6488 6876
Tags
Channels

Media Statements — Students — University News