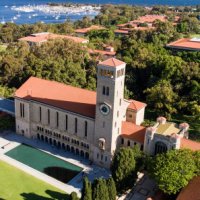 Tuesday, 24 March 2020
Dear UWA staff,
The week is moving faster and faster, I feel as if I am in a movie being fast forwarded.
I cannot begin to think what it is like for many of you, especially student facing Unit Coordinators, teachers and support staff. But, I can imagine what it would be like if we stopped. This would be bad for our students who must keep their learning going, bad for us and very bad for the communities in which we all live. Continuity matters more now than probably at any time in the long history of universities, and that is saying something.
Tuition matters
The census date has been moved from 31 March to 5 April to allow our students more time to adjust to their new way of learning, encouraging them to continue the Semester 1 study they have already commenced. Online is a different mode of learning, and in recognising this, I have agreed with the Guild President Bre Shanahan to this reasonable one week delay. Bre and I agree that we will continue to encourage all students to continue their studies and progress.
Home-based working
I would like to emphasise, again, the importance of physical distancing as the best way to stop and/or slow the spread of the virus. This means, amongst other things, keeping a distance of 1.5 metres between you and other people at all times. In some of our workplaces, this may be difficult and it is up to managers to assess whether colleagues can maintain the right physical distance between one another and then to take steps, including looking at home-based work, if they cannot. This does not mean simply sending everyone home; it needs to be a considered approach, made in consultation with colleagues, about the best way to protect our collective health and safety while keeping the University operating. Managers should explore all options for their teams.
It is also vitally important that we keep in touch and make it easy for colleagues to contact us during work hours.
If you are provided with a University mobile phone, you must include the number on your record on the staff directory (and you can do this by emailing

[email protected]

) and in your email signature.
Desk phones should be answered, forwarded to work mobiles or forwarded to the phone of a colleague who is working on campus.
Voice-mails should be reviewed and responded to and outgoing messages can be tailored to inform callers of your preferred method of communication (such as email or Microsoft teams).
​
Not only will these practices keep the University operating, keeping in touch with colleagues will go some way to mitigate the potential mental health risks that isolation from the workplace can lead to.
COVID-19 cybersecurity precautions
The UWA Cybersecurity team ask staff to be extra vigilant when opening notifications regarding COVID-19. To protect yourself against scams: don't click on links, or open attachments from people or organisations you don't know, and check external emails' legitimacy by contacting the relevant business using details sourced from the official company website. The Cybersecurity team will continue to monitor potential threats. Our email service has been updated to block known malicious domains sending phishing emails to UWA accounts. For more information on scams and how to stay safe, visit the Stay Smart Online website .
Do you need to take UWA equipment home?
If you are investigating the possibility of working remotely and are looking to take UWA equipment home, please discuss your requirements with your manager. In terms of ease of use, taking a UWA laptop home is simplest, followed by using a personal desktop or laptop where possible, followed by taking a UWA desktop machine home. Desktops typically do not have a WiFi connection, meaning you will need to connect it to your home network via cable. If you need to take UWA equipment home, then you must provide a listing of all items along with their asset IDs to your manager.
If you are taking a laptop or desktop home, follow the steps in the Work From Home guide to ensure that your device is up to date and secure. Failure to complete these steps will put your machine at risk of not working when taken off-campus.
For any queries regarding the process, please contact the Service Desk .
Short-term changes to car parking
In light of COVID-19, casual or other staff who currently don't have access to car parking at UWA or who normally travel by public transport, with immediate effect will be able to access University car parks and park in the yellow bays normally reserved for students. No enforcement will take place in the yellow zone during the period that these temporary arrangements are in place. This is a small gesture towards our staff community who are willing to continue to support UWA in extraordinary times but are impacted through their personal circumstances concerning car park access. This arrangement will be reviewed in four weeks.
Impact on research
We have received notifications from the National Health and Medical Research Council and the Australian Research Council confirming they understand projects that they fund may experience substantial delays or need to be varied as a result of COVID-19. The ARC and NHMRC, and we expect all other funders, appreciate the developing situation and will consider favourably requests to extend or to otherwise modify projects.
The UWA Research Grants and Contracts Office can advise and assist researchers with preparing and submitting extension and variation requests to funding agencies, if/when these are required.
Research teams should develop plans to reduce the risk of transmission. Researchers who require access to critical research infrastructure and facilities, such as Animal Care Services, should ensure there is an open line of communication with the Facility Manager to allow critical research projects to continue over the coming months.
The Graduate Research School is providing support to HDR students and will use the Graduate Research Coordinators as the best conduit for up-to-date information, which will then flow to supervisors and HDR students in each of the Schools.
I know you may be feeling uncertain about not only how we will work in the short-term, but also family, friends and changes in the world. Please know that we will continue to support each other. If you could do with someone to talk to, please make use of our Employee Assistance Program – appointments are available by phone and Skype.
Yesterday, I advised that a student within our UWA community had tested positive to the COVID-19 virus. The student is continuing to recover well, and is currently at home in isolation with their family. I would like to reiterate that the student did not have contact with any member of the UWA community, and we have been advised there is no risk to our campus community from this case. This student did the right thing. A great example to us all.
This morning I took time to smell the roses with a walk around our serene and beautiful campus and its buildings – a campus quiet but not empty. It reminded me of what we are working so hard to protect – the privilege of great education and the intellectual labour of our staff and students.
Keep taking care.
Jane
Professor Jane den Hollander AO
Vice-Chancellor
Tags
Groups

UWA Forward