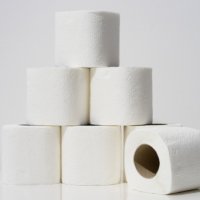 Tuesday, 24 March 2020
Waste water engineering researchers from The University of Western Australia have emphasised the importance of only flushing toilet paper down the toilet, instead of using alternatives such as tissues, which could compromise WA's sewerage infrastructure.
Professor Anas Ghadouani from UWA's School of Engineering and Oceans Institute said in the middle of the Covid-19 crisis, some people were struggling to find toilet paper and were considering other options.
"This is leading to people trying alternatives from shops such as tissues, paper towels, serviettes and baby wipes," he said.
"It's really important that people only flush toilet paper down the toilet and not the alternatives.
"Paper towels are made to be thicker and more hardy, that's what you want in a paper towel as you don't want them to break down, so if used they can block the sewerage system."
Professor Ghadouani said tissues, on the other hand, were a big problem because they were very light and floated so they would also compromise the underground pumping system.
"It is well known that baby wipes block up pipes more than anything else," he said.
Professor Ghadouani said because of the way the sewer system was set up, after waste was flushed, it went to the sewerage via a pipe angled down to allow flow with gravity, so if there was a blockage, the waste content would then rise back up to the toilet.
"So don't put pressure on our systems by flushing things that are not designed for toilets. If you do this you will block your toilet and the waste will rise back up, and the last thing we would want in this difficult time is to compromise our sewer infrastructure."
Media references
Jess Reid (UWA Media Adviser) 08 6488 6876
Professor Anas Ghadouani 0400 011 739
Tags
Channels

Media Statements — Research — Science — Teaching and Learning — University News

Groups

Faculty of Engineering and Mathematical Sciences — Oceans Institute — Science Matters