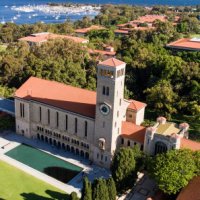 Monday, 23 March 2020
Dear UWA Staff
The saying that a week is a long time in politics is certainly no longer the case in the fast moving confronting world of COVID-19. You will probably know that, in an effort to flatten the curve, the Premier has closed all WA borders and in very firm advice yesterday indicated that there would be strengthened efforts to ensure the appropriate physical distancing was properly observed. Certainly my own observations over the weekend is that work places are safer than some excessively crowded beaches and cafes and we all need to try harder.
Please do make sure you follow the very specific and strengthened advice on physical distancing – a large space between you and others. Many of you are now working from home or a mix of home and work place. Please do stick to good hygiene in both places. If you need information, or you have concerns, about working from home please talk with your manager in the first instance or contact your HR Business Partner.
Working from home and physical distancing, which may last more than a few weeks, can be a lonely experience and so we all need to reach out to keep colleagues connected and okay. I know you will do this and let me know if there is anything I can do to better enable these aspects of our new way of working. The Australian Psychological Society has prepared some tips on dealing with anxiety around coronavirus, and maintaining mental health if needing to socially isolate. They are available here and will be on the Staff Intranet if you or your staff would find them useful.
Here's some further updates about our latest initiatives:
Tuition : Lectures and tutorials are now on-line in most units, with some exceptions in units with small numbers. Unit Coordinators have been superb in coordinating and getting us to this point. UWA IT has also stepped up to ensure connectivity and Zoom connections for everyone. This week is thus the great test of our competence. I ask everyone to be gentle where we have hiccups. There will be some. As we know, UWA is doing in eight weeks what other places has taken more than four years and lots of support to get right. We are not yet perfect, not by a long way, but we are on track, and we are ensuring our students keep their education on track. I am proud of everyone involved in our teaching functions and operations that you have achieved this milestone. It is noteworthy.
Laboratories , Practicals and Clinical work: We have postponed labs and pracs in Science and in Engineering as we cannot get the physical distancing right at this time and that takes precedence. There will be catch up in slower time at the end of Semester, next semester or in the summer. I have also asked the Executive Deans to look at what learning outcomes need to be addressed in these activities and which ones are not being tested or met. That will give us some idea on where to focus after this crisis is over. Clinical pracs and activities in the Health and Medical Sciences areas are in play with physical distancing being observed. This is important as our medical sciences students and staff are central to the immediate COVID-19 effort. I am assured we have matters in hand.
Examinations : Assessment for Semester One will mostly be online and work has commenced to get this appropriately sized and in place. We are currently planning to publish the Examinations Timetable as normal. At that time it will be useful to be very clear as to what and how we will assess, particularly for those who are not in Australia.
Graduations : Ceremonies are cancelled to at least mid-year, and perhaps beyond. Our graduands will graduate in absentia and be invited to attend ceremonies once these are once again permitted.
Research : I am very aware the focus to date has been on our tuition obligations. However planning has also progressed for our research infrastructure centres and by various research groups. The Graduate Research School has been communicating with School Graduate Research Coordinators in regards to HDR students. Moreover, I thank all discipline experts who have been so helpful in providing information to me and to the various authorities who need these insights, based on evidence and deep knowledge. It has been very satisfying to see all Governments use the expertise in our universities as they consider how best to manage the issues at hand across almost every aspect of our community. I hope all of you will continue to work, from your office or lab or from home — it is a great time, without travel and other obligations — to progress your ideas, write those papers and test other new ideas, and please, respond to questions and requests from our community.
Libraries : University Libraries are currently still open and offering study spaces, Wi-Fi, PCs and printing to UWA students and staff who rely on this infrastructure, as well as self-service loans from the library collection. All staff and students entering the library must comply with current physical distancing requirements. To stay up to date with Library services please check our latest information .
Working remotely – IT advice : For staff who are investigating the possibility of working from home, University IT have created a page on the Staff Intranet that covers how to access common services and systems remotely. This is a live resource which is frequently being updated to as more services are made available remotely, or simpler solutions are put in place. We strongly recommend that you review this information before starting to work from home, as some initial steps can only be performed while connected to the UWA network. As in other areas, the number of queries from staff to the IT Service Desk is very high at present; please be assured that the team are doing all they can to assist in providing guidance, finding solutions, and ensuring that work can continue.
The University is now in a disrupted way of working. We have generally agreed not to pause at this time as some other universities have done. Instead, we will probably opt for a longer break over Easter so everyone can catch their bre​ath, if that is required.
Colleagues, one and all, the next two weeks are shaping up as pivotal weeks in ensuring we get on top of this virus. Do the hygiene, do the distancing, lead the way — and above all look after your loved ones. History will be the judge of success so let's be sure we give it our best shot and let's act with generosity, with kindness and with an inclusive approach to everyone in the communities we serve.
Keep in touch.
Jane
Professor Jane den Hollander AO
Vice-Chancellor
Tags
Groups

UWA Forward