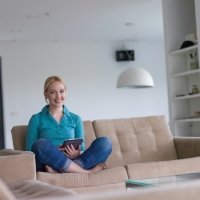 Monday, 23 March 2020
With people being asked to limit their contact with others to minimise the spread of COVID-19, a researcher from The University of Western Australia has suggested ways people can ensure they still stay socially connected without face-to-face contact, and look after their mental health.
Adjunct Professor Johanna Badcock from UWA's School of Psychological Science said humans were social beings and relationships and interactions were important in preventing or limiting feelings of loneliness and for maintaining well-being.
"While we can't replace the value of face-to-face communication, we need to think differently about alternatives and be flexible in these circumstances," Professor Badcock said.
"Unfortunately people who are socially vulnerable such as some older adults and those with physical or mental health problems are most likely to struggle through this uncertain period - so supporting them is important."
Professor Badcock said research showed that during a period of uncertainty, people felt a lack of control which could lead to anxiety, so reframing our mindset and focusing on things we could do, that were in our control, was important.
"The key to staying socially connected and positive is putting measures in place now to ensure we are prepared for future changes," she said.
"Although there are challenges, keeping a routine is especially important during these times so practising things like good exercise, sleep and nutrition," she said. "Even through limited contact these things are still achievable.
"We can also use this time as an opportunity to improve existing relationships. In uncertain times many people are feeling anxious or lonely but may not always feel comfortable talking about it, so checking in with family, friends and neighbours regularly is important.
"For those most vulnerable, helping them set up an environment where they can stay socially connected is important, such as using technology to facilitate interaction."
Media references
Jess Reid (UWA Media Adviser)08 6488 6876
Tags
Channels

Media Statements — Research — Science — University News

Groups

Science Matters