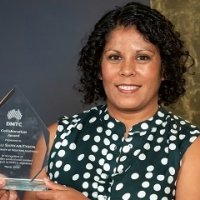 Monday, 23 March 2020
Researchers from The University of Western Australia are part of a global research team that is developing ways to slow the spread of antibiotic-resistant bacteria.
The outcomes could enhance Australia's preparedness to deal with emerging pandemic diseases that are a threat in both public and military health contexts.
Lead researcher Dr Mitali Sarkar-Tyson, from UWA's School of Biomedical Sciences, was recently presented with an Award for Excellence at the DMTC 2020 Annual Conference, recognising her contribution to the development of Australian medical countermeasures.
The DMTC project is a collaboration between The University of Western Australia, the University of Würzburg, Defence Science Technology Laboratory (DSTL), Murdoch University and the Monash Institute of Pharmaceutical Sciences and is focused on delivering novel therapeutics.
Dr Sarkar-Tyson said there was a particular protein present within all pathogenic bacteria that was known to be important for the spread of drug-resistant bacteria in people.
"We are looking at how to effectively disarm this protein, providing an opportunity for the host immune system to fight the bacteria without resulting in antibiotic resistance," she said.
Having successfully demonstrated that the protein inhibitors work, the team is now testing to see if the same compounds can be used to target other agents that cause bacterial infection, including meningococcal disease.
Dr Sarkar-Tyson said not only was the research important for public health but also for defence in Australia.
"Defence personnel are often deployed to regions where the bacteria are present, and against which existing antibiotics may be ineffective," she said.
The next steps for the team will be to test ways to make the inhibitors much stronger and commence pre-clinical trials.
Media references
Jess Reid (UWA Media and PR Adviser) 08 6488 6876
Tags
Channels

Awards and Prizes — Media Statements — Research — University News