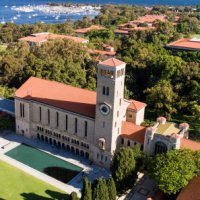 Friday, 20 March 2020
Dear UWA staff
Thank you to everyone who participated in our virtual Town Hall yesterday. It was live-streamed to more than 2,300 participants and we received more than 480 questions, many pleased to have received information and a fair few of you with advice and comments which I have noted.
In response to the number of enquiries about leave and working from home from the Town Hall yesterday this email sets out clearly and in more detail what support is available for staff at this time.
Commitment to keep us working
The best advice available to us at the moment is that we should implement safe health practices, including safe social distancing, to prevent the spread of the virus. Without safe health practices, the spread of COVID-19 is just as likely to occur in all aspects of our lives: at work, at home, in the supermarket or in socialising with friends. We are committed to finding ways for all staff to continue working, whether that be at home, at your usual place of work on campus or at some other location on campus. Our overriding priority however is to ensure your health and safety in your workplace which now may not be the University.
Streamlined working from home
These are unprecedented times. Your Manager has a responsibility to ensure the functions of your area continue. While safe social distancing represents our best approach to preventing the spread of this virus, we have now provided a faster streamlined working from home procedure that specifically addresses the unique situation created by COVID-19. For example, if you cannot exercise safe social distancing or have a pre-existing health condition that means that you would be more susceptible to the virus or are caring for someone who does, we encourage you to talk to your manager about utilising the procedure and working from home.
If you are working from home, your home becomes your workplace. As such, we need to ensure your safety and ensure you can productively work from home. To work from home, in accordance with the procedure, you need to complete an application form and have it approved by your manager. Your manager has the authority and responsibility to determine whether you can perform your job at home and whether you can do so safely. HR Business Partners are available to assist managers and staff have discussions around this. You can send the completed form by email to your Finance and Staff Resources Team.
Additional leave types
If it does become necessary for staff to be on leave because:
you are required to self-quarantine;
you have been in close contact with someone diagnosed with COVID-19;
you are awaiting COVID-19 test results or have been diagnosed with COVID-19;
you are required to care for a family member affected by (not diagnosed with) COVID-19;
then, in addition to current leave entitlements, all fixed term and continuing employees will be able to access Short Leave (22.5 hours) plus an additional 10 days of Personal Leave that can be accessed should they exhaust their accrued Personal Leave. This additional leave is not cumulative and expires, initially on 31 December 2020. However, the additional Personal Leave can be used for reasons other than COVID-19 related absences.
Further, all casual employees will be granted 10 days of Personal Leave (pro rata) for up to two weeks of rostered shifts that can be used for COVID-19 related absences where they cannot work from home.
The COVID-19 - Staff Leave Guidelines ​ are on the intranet. Read them as they set out what leave is appropriate in the potential scenarios we are aware of at this time, including if you are required to care for a family member affected by (not diagnosed with) COVID-19.
Further advice​
I will also take this opportunity to encourage colleagues to read the UWA Staff Guide: Understanding COVID-19 which provides essential information about COVID-19 including how it is transmitted and what some of the key terms like "close contact" and "casual contact" mean.
If you have any questions relating to this please contact your HR Business Partner, their contact details are available here HRBP Contact Details .
The weekend is upon us and next week our students are mostly online. It will be the beginning of a longish period of working differently as we all play our part in preventing the spread of this virus. It is a time for reflection and tolerance and kindness - we will probably not get everything right first time over this next period but let's aim to look for solutions and to help those around us.
Thank you for your work that you will now do.
Best,
Jane
Professor Jane den Hollander AO
Vice-Chancellor
Tags
Groups

UWA Forward