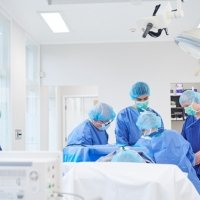 Friday, 20 March 2020
Getting the whole medical team together in one room for a pre-surgical list meeting sounds like a no-brainer but a new study published in BMJ Open has found that medical staff face many barriers to holding team briefings.

A research collaboration of workplace psychologists and surgeons from The University of Western Australia and Curtin University surveyed a total of 103 operating theatre staff including nurses, surgeons, anaesthetists, technicians and administrators from four WA hospitals, including Fiona Stanley and Fremantle, to identify factors that helped and hindered staff from carrying out briefings.

Study author Dr Laura Fruhen, from UWA's School of Psychological Science, said team briefings were short, five-minute meetings conducted at the start of a surgical list before the first patient arrived.

"These meetings typically involve surgeons, nurses, anaesthetists and technicians involved in an operating theatre list," Dr Fruhen said.

Study co-author Professor Stewart Flemming from UWA's Medical School said the purpose of the briefing was to enable theatre staff to share information, create a team identity where information could be freely exchanged and plan ahead across the full list.

Operating theatre staff described not having everyone in the room at the start of operating theatres lists as a critical barrier to team briefings taking place, Dr Fruhen said.

Co-author Professor Sharon Parker from Curtin University said other issues such as miscommunication among team members, staff resistance, attitudes and lack of knowledge were also described by participants as making briefings less likely to occur.

"They also reported organisational constraints, such as staffing and the lists not being accommodated in the schedule, as well as particular list attributes," Prof Sharon Parker said.

Professor Parker said solutions to making the team briefings happen included changes in scheduling and staffing, staff education, as well as improving communication among staff.

Previous research had found team briefings to have positive effects on teamwork, patient safety, as well as efficiency in the operating theatre, she said.

"Despite their benefits, they are reported to be underused in operating theatres so identifying which issues deter staff from engaging in these briefings and how these issues can be addressed is critical to supporting staff in taking up briefings," the report said.
Media references
Dr Laura Fruhen (UWA School of Psychological Science)                                                08 6488 1494 /0412 125 950
Simone Hewett (UWA Media and PR Manager)                                                           08 6488 3229 / 0432 637 716
Tags
Channels

Media Statements — Research — University News

Groups

Psychology — Science Matters