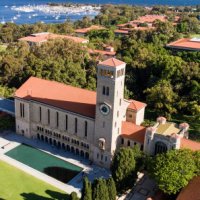 Wednesday, 18 March 2020
Dear UWA staff
Here's a briefer daily update on the unfolding COVID-19 situation, outlining the University's recent responses.
Latest advice from the government
The Federal Government yesterday updated its travel advisory to level 4, advising all Australians not to travel overseas.
Australians currently overseas have been advised to seriously consider returning home now.
There is now also a ban on non-essential indoor gatherings of 100 people or more. This currently continues to exclude schools and universities.
We have taken the following actions in response to this latest advice:
Travel
The University is supporting the return travel of staff and students who are in overseas study programs or on exchange.
Working arrangements for professional staff
For workplaces around the University with challenges in achieving sufficient social distancing, local solutions are being considered, including the potential for split rotations.
Classes and lectures
From tomorrow, Thursday 19 March all lectures to more than 100 students will be placed online while smaller lectures will continue on campus until the end of the week.
As of Monday 23 March, all lectures and tutorials and, where possible, practical classes will be delivered in online mode only until further notice. We continue to develop solutions for labs, pracs and clinical classes that cannot be easily converted to online mode.
Library
Effective from tomorrow until Friday 3 April, access to all UWA libraries will be restricted to only those who have a UWA campus swipe card (current staff, students and registered visitors).
Virtual Town Hall tomorrow
I look forward to seeing you at tomorrow's virtual All Staff Town Hall from 12 noon – 1pm. Please visit app.sli.do/event/7vpll8zl and use event code #K165 to continue submitting your questions.
Please stay across the latest information on the COVID-19 page of Staff Intranet . And keep in touch with me if there are matters you wish to bring to my attention.
Best
Jane
Professor Jane den Hollander AO
Vice-Chancellor
Tags
Groups

UWA Forward