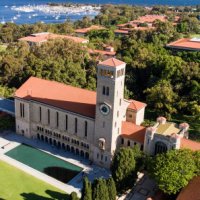 Tuesday, 17 March 2020
Dear UWA staff
This email is to update you on our collective response to the evolving international COVID-19 pandemic. It includes important information about what each of us must do to protect and support each other.
In summary:
Health, safety and preparation
Virtual All Staff Town Hall
Migration to online teaching
Events update
Streamlined Home Based Work
Additional leave types and guidelines
Recognising our community
​Health, safety and preparation
It's my view (after a month of observation and two days in the VC role) that our campuses remain safe and we are well prepared for whatever may come our way, noting it is a fast and ever-changing scenario where panic and anxiety affect many of us as we grapple to understand the truth.
​We are continuing to monitor the situation daily and continue to adhere to all Federal and State government advice and that advice, is that the infection risk currently remains low in Western Australia. The WA State health response has been excellent and proportionate. If you want reassurance, please view our latest preventative health advice from our University experts in a new video here .
There have been no confirmed cases of infection on our campus. Should this change, we will follow instructions from the Department of Health and the Metropolitan Communicable Diseases Centre and will implement our own well-developed plans to enable that advice. We will provide immediate and comprehensive information about the situation and the response to the entire UWA community.
If you are feeling unwell, please do not come to campus. Consider the health of everyone and stay home to recuperate. For advice about your symptoms and any further action required, you should call your GP or the Coronavirus Health Information Line on 1800 020 080 .
Virtual All Staff Town Hall
I know that many staff have questions, concerns and suggestions about how we are responding to the COVID-19 pandemic. To provide you with a safe forum in which to raise such issues and to assist me with my decision making, we will be conducting a virtual All Staff Town Hall this Thursday 19 March from 12 noon – 1pm. You will shortly receive a calendar invitation and instructions about how to participate in the meeting. We will use Slido as a platform for you to put live questions to our senior leaders. Please visit app.sli.do/event/7vpll8zl and use event code #K165 to start submitting your questions.
Migration to online teaching
From Monday 23 March all lectures and tutorials and, where possible, practical classes will be delivered in online mode only until further notice. Many labs, pracs and clinical classes which cannot be converted to online mode will continue as usual on campus using the strengthened social distancing principles. The decisions on what is online and what remains face-to-face are decisions for the Faculties, with advice from Unit Coordinators who best understand their discipline and its constraints.
Events update
Consistent with the recent Federal government decision to ban all non-essential static gatherings of more than 500 people, externally facilitated public events on UWA campuses, and all UWA events to which the public are invited onto our campuses, will be cancelled for the next month.
Streamlined Home Based Work
There is no current requirement to adjust your work location for COVID-19 purposes and you shou​ld attend work as normal and practice social distancing. However, those of you who are immunocompromised, have respiratory complexity or are over 70 years old should talk to your manager about working from home or from another off-campus location, should this be required in coming months.
To consider and prepare in advance for working from home please see further information and procedures on the Staff Intranet .
Additional leave types and guidelines
Should it become necessary for staff to be absent from the workplace due to COVID-19, we have introduced additional types of leave and guidelines for staff who need them. In addition to current leave entitlements, all fixed term and continuing employees will be able to access three working days of Short Leave plus an additional 10 working days of Personal Leave that can be accessed should they exhaust their accrued Personal Leave. The additional Personal Leave will initially expire at the end of 2020.
Further, all casual employees will be granted 10 days of Personal Leave on a pro rata basis for any COVID-19 related absence.
You can access the COVID-19 Staff Guide to Leave, which sets out what leave is appropriate in the potential scenarios we are aware of at this time, here .
Recognising our community
Colleagues, one and all, these are the "best of times, the worst of times … the epoch of incredulity" (Charles Dickens 1859) and I am heartened by the tireless contribution that everyone in our community is making to protect and support their students and colleagues through this unprecedented and harmful global event. As a University committed to truth and to research-informed decision making, we must continue to take a calm and evidence-based approach to our response to the virus and carefully consider how best to keep our students and staff healthy and safe.
I ask you also to look after each other — be kind and gentle towards one another — remembering always we are bigger that the sum of the parts that make up UWA.
This situation continues to unfold at rapid speed. I will continue to provide updates to the University community as it evolves. Please also visit the dedicated Coronavirus (COVID-19) page for all updates, information and resources.
Wash your hands after reading this, practice social distancing, and know that tomorrow the sun will rise.
Best
Jane
Professor Jane den Hollander AO
Vice-Chancellor
Tags
Groups

UWA Forward