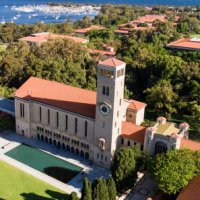 Monday, 16 March 2020
Dear UWA staff
Today I commence as your Vice-Chancellor until July 2020.
The Senate invited me into the short interim role to, firstly, assist in a smooth transition from Professor Freshwater to Professor Amit Chakma, and secondly, to provide them with advice on the strategic and financial challenges currently facing the University, including COVID-19. This advice also includes my assessment of the approach to the current Transformation program. To that end I have spent the last several weeks ensuring I understand the issues and state of play on core matters of strategy, budget and sentiment. It has been a pleasure to reconnect with some, meet others for the first time and generally reacquaint myself with the serenity and beauty of the campus after 20 years away. I look forward to meeting many more of you in the coming weeks.
I now have some preliminary views on what we might have to do in relation to a number of matters and I will be sharing these over the next little while. Some matters are urgent and complex, others less urgent but still central to the good progress of the University. Please be assured that all these matters have my full attention. To that end I hope to communicate weekly with you on the things that matter to you and to the University and I will consult with the Student Guild, the NTEU and the Academic Staff Association. I also hope to have a State of the University Town Hall to which you are invited and at which I will discuss matters in greater detail and most importantly, hear from those of you with questions and ideas. The only issue in relation to this is the current ban on large meetings and how it might best be arranged that we communicate.
It has been a brutal start to 2020 - a new decade filled with hopes that were soon dashed first by the bushfire season across Australia and now by the COVID-19 pandemic and the economic slow-down that may be of some duration.
Matters for your attention: COVID-19:
It is clear the number of infections is rising across Australia and we are not immune in this regard. We will be guided by advice from Professor Brendan Murphy, the Chief Medical Officer, from our State Government and the UWA Critical Incident Management Team (CIMT). The CIMT is an experienced group of staff from across the University who are advising me and other senior staff on how we should best respond to the pandemic from planning, operations and communications perspectives with the safety and wellbeing of our students, staff and community as the key drivers central to our decisions.
All of this means we are now in planning on
i) how we will continue our tuition obligations to our students, face to face in classes with fewer than 500 students, and through recorded lectures and on-line material made available for as many units as possible in the event we make the decision to suspend face to face activities once the evidence is clearer that this is our safest option;
ii) ensuring our staff continue to be kept informed, protected and supported as needed;
iii) ensuring casual staff who fall ill with the virus are not left financially compromised; and
iv) confirming and communicating what actions need to be taken should the University be required to suspend all campus activities, noting a campus with neither walls nor gates cannot be 'closed'.
We have already determined that international travel is beyond us for the near future. It is likely that we will need to consider domestic travel activity this week given the increase in cases in NSW and Victoria. My advice now is that you all reconsider any travel you have planned and think of your health and that of your colleagues and read the advice on how to limit infection, much of it on our Intranet. I will provide further advice via email after the CIMT meeting on Monday afternoon.
Additionally, externally facilitated public events on UWA campuses, and all UWA events to which the public are invited onto our campuses, will be cancelled for the next month. This will assist in ensuring we keep the campus safe for our students and staff as the essential activities related to tuition, research and administration continue. Further details will be communicated as these become available and I will keep each of you informed.
In the meantime, the Staff Intranet has a wealth of information and advice on what you should do to protect yourself and colleagues.
It's a delight to be back and working alongside you despite the confronting circumstances. We have much to do on a number of fronts, as many rely on universities as a steadying informed force for truth and for good. It is likely the COVID-19 vaccine solution will come from university-led research somewhere. We are part of that grand tradition of providing solutions to the big issues in our communities and so it is incumbent upon us to keep our University working as efficiently as possible through trying circumstances.
Thank you for the extra effort you will each inevitably contribute over this next period. Keep washing your hands and practise social distancing.
Best
Jane​
Professor Jane den Hollander AO
Vice-Chancellor
The University of Western Australia
Tags
Groups

UWA Forward