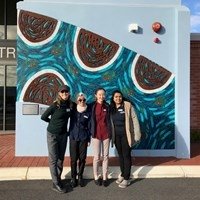 Wednesday, 24 June 2020
UWA Podiatry students experienced rural practice in the Midwest in 2019 as a result of efforts by Podiatry at UWA, and support from the Western Australian Centre for Rural Health (WACRH) and Rural Health West.

This program was achieved by collaboration between Dr Deb Schoen (UWA, Podiatric Medicine and Surgery Division), Kathryn Fitzgerald and Professor Sandra Thompson (WACRH), Mary Lyons and Janelle Mudie (WA Country Health Service (WACHS), Anna Kosh (Foot and Ankle Health Group), Andrew Hyde (Geraldton Podiatry), Lara Reynolds (Panaceum), and Peter Manuel (Podiatric Surgeon).

Students received financial support from Rural Health West who provide scholarships for student rural placements, through the Rural Health West Student Placement Scholarship Program. Podiatry students were recognised as part of the future health workforce for which there exists high need.

In their two week placements, the students worked in the Midwest Cancer Centre to undertake foot assessments and deliver foot care education for people, at the time they were receiving their chemotherapy.

This was undertaken at the request of Lindsey Richmond, the Midwest Cancer Care Coordinator and proved to be "role emerging placement". The benefit of a Podiatry service within a Multidisciplinary Cancer Team was rapidly evident and commencing this year, the WACHS provides an ongoing regular service in the Cancer Centre. Students found their experience at the Cancer Centre very valuable as it shattered their existing stereotypes regarding people who were undergoing cancer treatment.

Each afternoon, the students provided a free Podiatry clinic from within the WACRH, Geraldton. These clinics were well attended and responded to unmet need within the community, including the financial challenges some patients have accessing private podiatry services.

The clinic was student led, with students operating all aspects of the service including arranging client appointments. The placements included support from multiple local private podiatrists and a podiatric surgeon in Geraldton. Some students had the opportunity to complete a week of outreach service delivery in Carnarvon with a WACHS podiatrist, Janelle Mudie, which provided great insights into the challenges of service delivery in a remote context.

As well as gaining many hours of clinical experience which the students appreciated, a highlight for students was the opportunity to engage with WACRH Aboriginal staff and learn about local Aboriginal culture. Students were taken to significant cultural sites around Geraldton and had the opportunity to ask questions about Aboriginal people and culture, which were answered by the WACRH team. The Midwest rural placements were successful in encouraging students to consider Rural Practice after graduation. Five out of twenty-six students took a rural position for the clinical position after graduating and all five had completed a rural placement with WACRH.

The experience demonstrates that even short placements can be transformative in shaping students' understanding and consideration of rural careers.
In 2020, proposed podiatry student placements were extended to include clinical placements in the Pilbara, with the assistance of Rural Health West scholarships to cover the cost of flights and with support of WACRH staff and facilities in the Pilbara. Unfortunately, due to restrictions related to COVID-19, all student rural and remote placements across multiple allied health disciplines, including podiatry have been paused for the time being. The temporary halt in Pilbara podiatry student placements was a necessary response to concerns regarding potential transmission to high-risk populations as the students were due to visit the Aboriginal Medical Services in Roebourne and protection of Aboriginal populations is essential. Third year students will be given priority for rural placements when they commence in September.
Meanwhile, campus efforts are under way to change the curriculum so that student placements of at least 6 weeks can be undertaken in rural and remote WA from 2021.
Tags
Groups

Education Quarterly