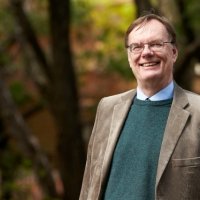 Thursday, 12 March 2020
We bid farewell to The Winthrop Singers Musical Director, Dr Nicholas Bannan , in his final choral service on Thursday 21 May. Dr Bannan established the elite chamber choir for UWA students, staff and the community 13 years ago, on Thursday 8 March 2007.
The group performs choral evensong every Thursday during the semester in the Chapel of St George's College . Since its inception, the choir has made four CD recordings and toured to Beijing and Singapore, as well as regularly touring the west coast of Australia, Geraldton, Albany and Denmark, and performing in Bunbury and Kalgoorlie.

Dr Bannan and his choir have been instrumental in spreading the news of UWA's Seek Wisdom message through music. Alumni from the choir are singing, conducting, composing and teaching across the globe, with a few remaining in Perth, bringing church music to the WA community.

Please show your support for The Winthrop Singers at one of their regular weekly services of evensong at the Chapel of St Georges College, every Thursday from 6:00pm - 6:40pm.

We thank Dr Bannan for his hard work and dedication during almost 14 years of service at UWA, and wish him well in his retirement.
Media references
Caitlin White (Marketing Officer) 08 6488 3214
Tags
Channels

Teaching and Learning

Groups

Faculty of Arts, Business, Law and Education