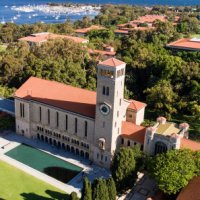 Wednesday, 4 March 2020
Dear Colleagues
UWA continues to closely monitor developments surrounding COVID-19 and its impact on our community. In order to protect the health and wellbeing of colleagues, the University Executive has decided to limit international travel for staff and students. This correspondence outlines the decision and process for staff.
With effect from 4 March 2020, work and study related international travel will only be permitted in exceptional cases.
Our decision was made in order to prioritise the health, safety and wellbeing of our staff and students amidst the rapidly changing COVID-19 situation, where it is difficult to predict where and when future outbreaks will occur. As such, it is no longer possible for the University to determine where and when travel risk arises. The duty of care we owe to all colleagues and students is such that we need to act to limit all international travel.
We recognise that this decision will inconvenience some colleagues and students who have planned to travel overseas in the near future to attend meetings, conferences or collaborate with others. We encourage them to make alternative arrangements such as teleconferencing or collaborating online where possible or deferring the travel until a later date. We will be reviewing the decision to limit international travel on a weekly basis.
We also recognise that there may be circumstances for international travel that are exceptional and where the risk may be manageable. In such circumstances, and with the approval of the relevant Executive Dean, DVC or the COO, colleagues may request permission to travel from the Vice-Chancellor. Requests should be addressed to the Director of Human Resources at [email protected] in the first instance so that an assessment of the travel risk can be made and advice provided to inform the Vice-Chancellor's decision.
Before making a request however, we encourage colleagues to interrogate whether their travel is truly exceptional and worth risking their health and safety.
Sincerely
Professor Simon Biggs
Senior Deputy Vice-Chancellor
Tags
Groups

UWA Forward