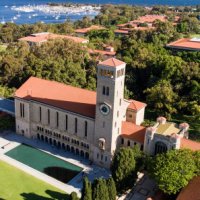 Wednesday, 4 March 2020
Dear Colleagues
In short:
Lectures available remotely for all students
Preventive hygiene practices to be introduced for teaching spaces around campus
A staff guide " Understanding COVID-19 " with detailed health information is available for download and on the Staff Intranet
I understand that members of the UWA community may be experiencing concern for their health and wellbeing with the wider international spread of COVID-19.
I would like to reassure you that the University has been closely following all Federal Government advice and is monitoring the situation on a daily basis. There are current quarantine and border control measures in place to reduce the risk of people entering Australia while infected with COVID-19.
A UWA Health and Wellbeing Management Plan has been developed outlining key strategies for the prevention, containment and management of Coronavirus COVID-19 across the UWA community.
While there have been instances of transmission between people in Australia (i.e. without recent travel to a high risk country) the Chief Medical Officer notes that Australia is extremely well prepared. The majority of confirmed cases in Australia have recovered and Western Australia is well contained.
There is no current requirement to adjust your daily activities. You can still attend work and study on campus as normal.
Nonetheless, everyone should practise good hygiene at home, around campus and in the community (poster available for download ​ ) to protect against infections. The Department of Health recommends:
washing your hands often with soap and water;
using a tissue and cover your mouth when you cough or sneeze;
coughing and sneezing into your elbow; and
avoiding close contact with others such as touching, kissing, hugging, and other intimate contact.
Practice advised by health professionals is to maintain a social distance (around 1-1.5 metres) in class and meetings and to refrain from shaking hands during greetings. Some of you might want to carry your own sanitation products.
If you are feeling unwell, please do not come to campus. In the first instance you should contact your manager. It may be that your symptoms do not warrant personal leave, but that a working from home option can be arranged.
If you experience COVID-19 symptoms , please remain at home and immediately contact a healthcare provider by telephone (not online), and inform them of your travel history and symptoms. Do not attend a medical centre, clinic or surgery in person without an appointment.
The University is also taking the following additional preventive measures to ensure safety and continuity of teaching we have provided:
Increased sanitary cleaning of teaching venues, public areas, toilets and libraries;
Desk top hand sanitiser units and disinfectant wipes around campus;
Online lecture options and materials are available for all students who feel unwell or uncomfortable attending campus;
Zoom video conferencing is available to all staff for meetings.
I would also like to acknowledge our University staff and students who have exemplified our values in their response to this situation by supporting our students who cannot join us and in preparations to protect the health, wellbeing and safety of everyone around our campus.
In that spirit and to ensure the safety and wellbeing of all our staff and students, I will flag that the University has assessed its international travel advice for staff and students – further details will be available in a forthcoming communication.
I will continue to provide updates as the situation evolves. The University also has the following resources available:
Frequently asked questions about coronavirus (COVID-19) can be found online at both our FAQ page and the Staff Intranet .
A guide for staff " Understanding COVID-19 ", which provides more detailed steps to take if you are concerned.
For additional support you can also access our confidential Employee Assistance Program .
Sincerely
Professor Simon Biggs
Senior Deputy Vice-Chancellor
Tags
Groups

UWA Forward