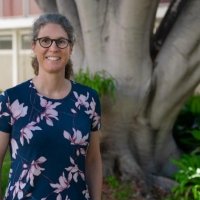 Tuesday, 3 March 2020
The University of Western Australia's Associate Professor Britta Bienen has been awarded the prestigious John Booker Medal in Engineering Science for her contribution towards improving the safety and reliability of offshore foundations.

Associate Professor Bienen, a geotechnical engineer from UWA's Centre for Offshore Foundation Systems in the Oceans Graduate School, said the award represented a very special and different kind of recognition.

"Our research, which focuses on the safety and reliability of offshore foundation systems has already had a significant impact globally," Associate Professor Bienen said.

"The predictive methods we have developed are being actively utilised by practising engineers in the offshore energy industry and our research findings have been incorporated into industry guidelines.

"Offshore foundations provide physical support for man-made structures in the sea, which include oil and gas platforms and offshore wind farms.

"Offshore facilities critically rely on the ability of their foundations to support the weight of the entire installation and reliably transfer all loads to the underlying soil," Associate Professor Bienen said.

"Uncertainties concerning the performance of foundations that support offshore facilities pose an unacceptable risk to the safety of people, the environment and the asset.

"This uncertainty highlights the importance of investigating how we can improve the development of offshore foundations while increasing safety and reliability."

Associate Professor Bienen said she became interested in the field of offshore geotechnical engineering due to the challenging nature of developing structures that interact with the sea-bed's natural materials.

"By nature, all offshore operations are remote and challenging, so there is an opportunity to make a real difference, improve current engineering solutions and provide new guidance for interesting projects," Associate Professor Bienen said.

"I thought it would be a really interesting field to explore, especially considering the world is making a transition towards renewable sources of energy.

"My time in geotechnical engineering has provided a vast range of experience and an opportunity to work with very interesting people from all over the world, both in academia and industry."

UWA Vice-Chancellor Professor Dawn Freshwater said the award acknowledged the highly valuable research carried out by Associate Professor Bienen and her team.

"Britta Bienen is an outstanding role model for women working in STEMM and the University is very proud of her achievement," Professor Freshwater said.

Awarded by the Australian Academy of Science, The John Booker Medal recognises outstanding research in engineering and honours the memory of Professor John Robert Booker who worked in the area of theoretical geomechanics.
Media references
Nicholas Smith (UWA Media Officer)                                                   08 6488 1888 / 0411 644 492
Tags
Channels

Awards and Prizes — Business and Industry — Media Statements — Research — University News