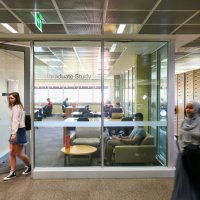 Friday, 28 February 2020
There are some changes happening at the Barry J Marshall Library.
Additional power outlets for laptops and other devices will be added to study desks on level 2 and dedicated study spaces for postgraduate students will replace the compactus area on level 3.
Work will commence in early March and is due for completion at the end of April 2020. During this time, level 3 of the Marshall Library will be closed and Level 2 will become a silent study space.
These changes are part of the University's commitment to producing high-quality learning spaces for our current students, and enhancing the quality of the student experience at the University.
We apologise for any inconvenience and thank you for your patience.
Media references
University Library +61 8 6488 7425
Tags
Groups

University Library