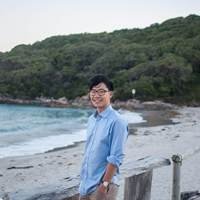 Wednesday, 24 June 2020
About Caleb

Caleb Kim is in his fourth and final year of medicine. This year, he will continue his studies as one of the three students participating in UWA's fourth year Rural Clinical School (RCS) pilot program in Bunbury.

He is also a recipient of an overseas study grant which assisted in funding a four-week clinical elective in remote Papua New. This was Caleb's first exposure to a developing country, which he says, gave him a much-needed perspective on rural and global health needs in a system that operates with limited resources.

Among other pastimes, Caleb enjoys performing music. Prior to moving to Bunbury, he was involved in setting up and directing a community classical music ensemble. His interest has now moved to more popular styles of music and hopes to experiment with writing and recording after medical school.
The road to medicine

I had wanted to study medicine since early high school, but at the time it was only because a family friend that I had admired was a medical student at the time. I realised later that medicine conveniently aligned with my well-meaning, albeit generic career intentions of finding a job that "involved science and helping people."

After briefly considering a career in engineering during which I completed my undergraduate in Engineering Science, I decided to commit to a medical degree, but it was only after beginning my studies that I came to a much deeper appreciation of the diverse opportunities afforded to a doctor. I've had the privilege of convening a research conference as well as working on some original research, and I've volunteered overseas and helped out with health promotion in local schools. Medicine was a spontaneous and naïve choice that I made years ago, but if the journey is anything to go by, I've got no doubts that I'm on the right track.

My regional learning experience
I jumped at the opportunity to complete my third year of study at the RCS in Bunbury. At the time, I was keen to explore the idea of a medical career in the country, and students who had previously completed the program encouraged me to apply and spoke well of how well the course was organised and delivered.

Before undertaking my third year in Bunbury, I had six months' worth of practical experience in the busy, med student-saturated Perth hospitals. The Bunbury hospital was much more laid back in comparison. Consultants would do coffee rounds for the junior staff, and there were open-invite social gatherings with the whole medical ward. Doctors would know us by name, and we found it much easier to integrate into the medical team, build trust and as a consequence gain more hands-on experience.
The biggest difference compared to Perth, however, was the amount of support given by the academic and administrative staff that delivered the RCS program. They not only knew us personally but would actively mentor and teach us over the year. That was a big change from Perth, where we were used to whole-cohort emails and announcements as the norm for staff interaction given the much larger student-to-staff ratio.

Living in Bunbury gave us some separation from the rest of the cohort in Perth, but getting involved in wider community activities such as church and school ensured that I got out of the negative headspace especially around the end of the year due to constant talk about deadlines and exam stress.

The RCS program was not only optimised for effective teaching, but also to give us a memorable, experience-filled year. Bunbury is in a beautiful part of Australia, and the eleven other students and I made the most out of the time down south, visiting the local farmers' market, touring wineries and breweries, and spending weekends at the pristine beaches. Memorable events of the year include the forest camp that the school organised for us in the second half of the year, and being a part of the medical student team that ran in the Great South West Bed Race.

Compared to the rush of Perth, we found that time seemed to run slower in Bunbury, and less time for commutes allowed more time for beach walks, café visits and bike rides. I had just gotten married to my wife Laura before the start of the year, and we greatly appreciated the change in pace. Laura found a job as a teacher at one of the local primary schools. Many of the staff and parents at the school also became familiar faces and friends, and I got involved in the school providing music for concerts and other performances.

Completing the internship in the region during COVID-19

To say that final year of medical school is busy and stressful is an understatement, but none of us anticipated the disruption and uncertainty that COVID-19 brought. In the first few months, when there was wild speculation on how severe the impact of the virus would be, we were told to be ready to pull on our gloves as part of the COVID-19 workforce, while we were left in the air with questions about final exams, graduation and even work next year. We owe a massive amount of credit to the faculty in Perth and RCS Bunbury who have been unbelievably supportive, and there has been so much good work done to reassure us, to secure clinical placements, and arrange online methods of learning for cancelled placements.

Western Australia has done incredibly well in responding to the virus, and concerns about hospitals and intensive care units being overrun turned out thankfully to not be the situation here. As regional students, we were given a unique insight into how hospitals adapted to crisis, as we were able to attend meetings, and see in real-time the decisions that were made to arrange isolation wards and COVID clinicss.

In terms of online learning, the majority of our placements continued as normal. A few rotations did end up getting cancelled, so most of us had to participate in online learning provided to metropolitan students who had also had cancelled placements.
Thankfully, we have been incredibly fortunate in WA, and we have it pretty good down here. As the caseload of COVID in the South West has been miniscule compared to Perth, most of the departments are able to continue to accommodate us, and there hasn't had to be significant timetable restructuring to fit us all in placements like the Perth students have experienced.

On an upward move

I've benefited greatly from being able to get more involved with patients in Bunbury as well as the close mentoring supervision that I've received, and I feel that I've learned much more that I would have if I'd have stayed up in Perth. It's also solidified my aspirations to become a general practitioner. GPs out in the country tend to take on a broader scope of practice compared to their metro counterparts, and Bunbury hospital still employs general practitioners in roles that would otherwise be filled by a specialist, so it was inspiring to see the diversity and opportunity for practice rural general practitioners have here.

I plan to move back to Perth upon graduating and look forward to completing my internship at one of the tertiary hospitals. Although Bunbury has positions for interns as well, I would like to gain experience in a major metropolitan hospital. A working holiday trip around Australia is definitely on the cards, and I hope to do some volunteering in Papua New Guinea before I start my general practice training.
Tags
Groups

Education Quarterly