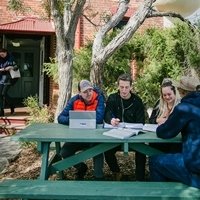 Wednesday, 24 June 2020
A total of 16 scholarships valued at $15,000 per student per year will be made available from 2021 to students who wish to study at the UWA Albany campus.

UWA was one of 35 education providers across regional Australia that were recently successful in being awarded the Destination Australia Scholarships. UWA will receive $660,000 over three years to attract and retain both undergraduate and postgraduate, domestic and international students to the UWA campus in Albany.

The scholarships will be made available through the UWA Scholarships Office and will be open to eligible students who choose to relocate to the region for the duration of their degree.

The generous allocation of funds per annum of the degree provides the possibility for students to either pay for their courses 'up front' or pay rent and living expenses – or maybe a combination of both.

The Albany campus has successfully delivered a range of undergraduate and postgraduate programs for the past 20 years and it is well placed to provide students with an enriched and unique experience that embraces the biodiverse and culturally rich nature of its surroundings.

The campus boasts strong industry and community connections in teaching, training and research.

It is close to a variety of breathtaking field locations, including some of the safest marine waters in WA. In addition, its close connections with the local Noongar community is paramount to learning about knowledge systems and cultures on Country.

Completing a degree in a regional area has many benefits and those who relocate to the Great Southern region are often loath to leave the region, once their degree is complete.

The UWA Albany regional learning environment encompasses culture and arts, access to some of the most pristine beaches in Australia, incredible walking and climbing trails, amazing wineries, whale watching, sporting opportunities – not to mention a cappuccino strip where the barista knows how to make your favourite coffee!

The Destination Australia scholarships will also enable UWA to increase investment in regional WA, a strategic objective outlined in UWA 2030 with the program aligning with the development and implementation of UWA's Regional Strategy.

Thanks to the Destination Australia program, UWA is able to offer the benefits of a UWA regional tertiary education opportunity and experience that might not otherwise be available to some.
Tags
Groups

Education Quarterly