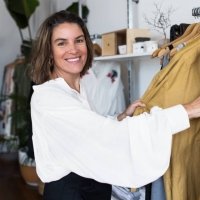 Wednesday, 26 February 2020
Dirima Cuthbert is an anthropologist with a degree in environmental design. This background gives her a 'people first' perspective and while her path through those areas to environmental sustainability and eventually the Oceans Institute may seem unpredictable, it follows a lifelong love of the ocean.
Her love for the sea began in her childhood at Yallingup where she was born and raised and was encouraged by parents and knowledge of country shared by Wardandi Elders. She considers the ocean an important part of the human experience. "The ocean has defined us in so many ways as human beings and I think that makes it such an important thing to be around," she says.
Dirima's interest in climate change is clearly evidenced in her work on sustainability and, after more than two decades living and working as an anthropologist in the South West, she has a unique insight into people and place.
"Looking at climate change from an anthropologist's viewpoint is fascinating. Changes in the environment such as beach erosion, or changes in our habits such as how we engage with the coast, affects us as a culture and as individuals," she says.
"Anthropology helps us understand our relationship to the environment. I'm interested, for example, in understanding our responses to climate change and then identifying the cultural conditions that will help climate solutions fall on fertile ground."
As Dirima sees it: "Social scientists can't act alone, we need to work with hard scientists and traditional knowledge holders to bring all that information together in a more holistic way." Through knowledge-sharing she looks forward to 'learning from areas we're only just starting to scratch the surface on.'
Dirima's role at the Oceans Institute is Assistant to the Director and Project Officer but she explains it's more than just admin. She acts as an interface to help thread different areas of research together and supports projects throughout the building and in the community.
"Increasingly, professional staff at universities are upskilled across a range of areas, and we are a really great resource. If people in the Oceans Institute want support on anything; logistical or research, then they should feel free to come and chat and, within the scope of our jobs, we'll try and do our best to accommodate their needs," Dirima says.
With her sights set firmly on the future and what the Oceans Institute can achieve by bringing social science, hard science and traditional knowledge together, she concludes: "In 2020 I would like to continue to improve our systems, especially how we share knowledge in our building, across campus and into the community.
"I love supporting our portfolio of projects at the Oceans Institute and look forward to watching them continue to grow to make a real difference."
Media references
Liz McGrath (UWA Oceans Institute) +61 433 795 509
Tags
Channels

Research — Science

Groups

Oceans Institute