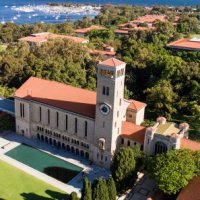 Thursday, 20 February 2020
Dear colleagues,
Further to the Vice-Chancellor's email last week, I would like to provide you with an update on teaching solutions for students impacted by COVID-19 travel restrictions who are as a result unable to join us on campus for the start of semester.
We have committed to ensuring that any disruption to students' education at UWA is minimised, and are implementing UWA EDUFlex, a digitally-supported learning model to enable this.
Impacted students can commence digital-supported learning from 24 February. If these students can arrive on campus by 31 March we will then switch to face-to-face classes along with study plan options that will enable them to catch up before the start of Semester 2.
If students can't arrive on campus by 31 March, but can arrive before the start of Semester 2 on 24 July, then we will work on study plan options with the aim of getting students back onto their original schedule over the duration of their studies, with the exception of students due to graduate at the end of semesters 1 or 2 this year.
We note that digital-supported learning will not be conducive to some programs at UWA, and in these instances we will develop other solutions. In particular, this is the case for many of our articulation cohorts on special pathway programs, and we will be in touch soon with more details about solutions for these programs.
Many Unit Coordinators have already been receiving enquiries from affected students, and the following information has been designed to assist Unit Coordinators to explain how our digitally-supported learning model will work, and in planning their teaching.
UWA EDUFlex Toolkit
For information on teaching inclusively in response to COVID-19, access the following toolkit: www.worldclasseducation.uwa.edu.au/eeu/resources/eduflex#ui-id-5
UWA Learning Management System (LMS)
Content from both the learning management system (Blackboard) and the lecture capture system (Echo360) has been cached in Hong Kong to enable easier reach and improved performance. We have conducted extensive testing and validated performance with students currently in China.
While the above LMS solution is already in place for students in China, we are working with Alibaba – a major Chinese telecommunications company – to find ways to further improve connectivity and speed so that students can access UWA resources (e.g. LMS, Zoom) in a way that meets Chinese regulations, while also greatly improving the reliability of our services.
We recommend students log onto these systems and download content locally for offline viewing (instead of streaming), as this will provide the best experience. It will not be necessary to use the UWA UniConnect service​ to access LMS or other UWA resources.
Video conferencing
The University IT team will support two video conferencing options that are accessible from China: Microsoft Teams and Zoom. It will be possible to use one or both of these platforms to deliver teaching, depending on delivery mode.
Computer labs
Virtual labs will be implemented for targeted units, allowing students working remotely to take part in lab activities as they would if they were on campus. More detail on how unit co-ordinators can implement virtual labs will be available soon.
UWA app
The UWA app can be downloaded to mobile devices, providing students with a sense of community, including through direct interaction with fellow students. Specific forums will be set up for international students to assist with self-support and chat.
IT support for students in China and other countries
University IT will have Mandarin speaking support staff available to assist with technical difficulties from the beginning of Semester 1, 2020. This team will be available via telephone (+86 400 120 0259, then choose option 1) or email at [email protected] , Monday to Friday 8am – 5pm (AWST). Students within Australia seeking IT support will be able to call 08 6488 7335 from Monday, 24 February.
IT support for staff
University IT will prioritise support for teaching staff, to ensure staff are well supported while implementing new technology. This team will be available via telephone (+61 8 6488 1234) or email at [email protected] , Monday to Friday 8am – 5pm (AWST). Further details about IT support will be made available soon.
Teaching support
If you would like advice on tailoring your unit to students who are studying remotely, or which video conferencing technology to utilise, please contact your Educational Enhancement Unit faculty team .
We will continue to communicate with you as more details around the delivery of remote teaching become available.
Again, I would like to thank staff across the University who have been working on academic and pastoral support solutions for impacted students, and who will continue to support these students over the coming semester.
Please feel free to respond to individual student unit related questions, but if you have students seeking further personalised advice, please ask them to contact [email protected] . International callers can phone us on +86 400 120 0259 or callers within Australia can phone +61 1800 518 018 between 10am-4pm (AWST).
Additionally, UWA's novel coronavirus FAQ page continues to be updated with new information.
Best wishes, David
Professor David Sadler
Deputy Vice Chancellor (Education)
Tags
Groups

UWA Forward