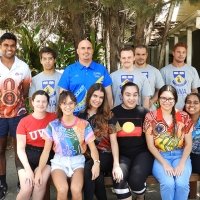 Thursday, 20 February 2020
This year, twelve Indigenous students have commenced postgraduate Medicine. This is the largest number of Indigenous students ever commencing Medicine  at UWA in any one year. The students come from all over Australia including Perth, Broome, Derby, One Arm Point, Tennant Creek, Warralong in the Pilbara, Exmouth, Halls Creek and Albany.  Most have completed undergraduate degrees in Biomedical Science or Science at UWA, although one of the students has a  teaching background and another a Medical Science degree from the University of Sydney. A number of the students have also been involved in research in their gap years.
Brianna Ozies from Derby commented…" I've always wanted to be a doctor …. To be a part of a record-breaking number of Indigenous students starting Medicine is such an honour. We are only a month into our studies, and you can already feel the strong friendships and support amongst us. Hopefully, we'll graduate together at the end of the 4 years and make history."
Aaron Sutton, originally from Tennant Creek, NT  stated that "Medicine is one of the vital areas in our society where there is a need for more Indigenous representation. Something I am really passionate about is helping people - that's why I am studying Medicine. I would like to specialise in Orthopaedic/Neurosurgery and own and operate my own practice. We need more of us pursuing higher education in fields like Medicine, to lead by example …. "
While six students graduated from Medicine in 2018 and three more in 2019, this year's cohort should all graduate in 2023 and start working as interns to make a huge difference in their communities.
So far,  52 Indigenous medical graduates from UWA who are now working all over Australia: many as GPS, but others specialising in Obstetrics and  Gynaecology; Paediatrics; Psychiatry, Cardiology and in every state. For the first time this year, there are over 6 Indigenous doctors, all UWA graduates practising in Broome alone – Bianca Howard, Luke Davies, Billie Kickett-Morris, Gemma Johnston, Tamisha King  and Dr Kim Isaacs who is the Deputy Director at the Kimberley Aboriginal Medical Services.
Media references
Gabrielle Garratt (School of Indigenous Studies): 08 6488 2467
Tags
Groups

School of Indigenous Studies