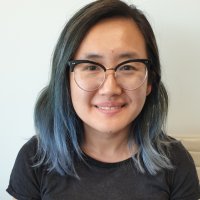 Tuesday, 18 February 2020
You may have noticed a familiar face on the fifth floor, Tina Zhang from OceanWorks has joined the Oceans Institute's science communication team!
Tina has a background in both engineering and arts; she discovered a love of learning and teaching during her PhD in nanotechnology and found science communication to be a great balance between the creative and technical side of her brain.
Her science communication career began doing five shows a day, twice a week. "While working at Scitech I fell in love with connecting to audiences, storytelling, and sharing the wonders of our world with others," she says. She describes this as a "diverse role that involved creating scripts, live performance, and serious writerly discussions about whether a raunchy joke about whether Orion's Belt belonged in Act I or not."
Tina also uses her role as a science communicator to address the gender inequality present in STEM fields, particularly engineering. "For me, the story is about missed opportunities. We know that young girls are as capable in STEM related subjects as their male counterparts… we are missing out on some of our best, brightest and most capable problem-solvers, innovators and leaders."
This passion for helping women and girls find a place in science began in her early university days. Tina recalls, "being one of only a few female students in my first year engineering class, having very few female professors to look up to, and having no female supervisors at all on my PhD panel". Despite being one of the many women who "didn't 'make it' to the end of the pipeline, choosing to go into a different profession after postgraduate studies," she uses her creative skills to help other women make their way into engineering through her work with UWA's Girls in Engineering program.
Tina hopes to use [her] skills in storytelling and engaging wider communities to spark real interest and ownership in our shared oceans, with the Oceans Institute. As a science communicator who is always looking for ways to make science more accessible and relatable to wider communities, Tina looks forward to working in 'a unique institution'. "We are broad in our scope and multidisciplinary in our approach, uniting experts from a wide range of research areas to tackle important challenges and create innovative solutions," Tina says. It is that same innovative spirit that she brings to her science communication work.
While her background is in space sciences Tina is excited by the exploration of our oceans and their importance to our planet. "The health of our oceans is vital for the future of this little blue planet," she says. "it is important to inform our communities regarding the latest discoveries, engage them in creating solutions, and inspire people to take action where they can."
Tina, whose hometown is Perth, is also looking forward to working with the city as backdrop for ocean sciences. "The wonderful thing about working in oceans science in Perth is that the sea is already such an important part of daily life here." She believes that working with 'beach-going people' will unlock "many interesting and creative ways to communicate what we do".
Keep a look out for Tina and all she will bring to the Oceans Institute!
Media references
Liz McGrath      UWA Oceans Institute       (+61) 43 7995 509
Tags
Channels

Science — Teaching and Learning

Groups

Oceans Institute