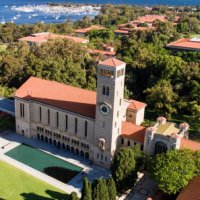 Friday, 14 February 2020
Dear students,
As we prepare for orientation activities next week and at the start of first semester on February 24, I write to assure you that UWA remains committed to providing a safe, positive and welcoming environment for all our students; both for those who are joining us for the first time and for those continuing their studies.
The safety and wellbeing of our community remains our highest priority. From the early stages of the global novel coronavirus outbreak, UWA has strictly adhered to all Federal and State health, travel and safety advice. This has ensured our campus is safe and prepared for the start of semester.
To date there are no confirmed cases of coronavirus in WA and the advice of health authorities remains unchanged: the risk currently is very low and those in WA should remain alert, but should not be alarmed.
The following basic health precautions are still advised at this time:
Frequently clean hands by using alcohol-based hand rub or soap and water;
When coughing and sneezing cover mouth and nose with flexed elbow or tissue – throw tissue away immediately and wash hands;
Avoid close contact with anyone who has fever and cough;
If you have fever, cough and difficulty breathing seek medical care early and share previous travel history with your health care provider. Do not attend a medical centre, clinic or surgery in person without an appointment. This is to enable reasonable precautions to be put into place for your visit and reduce risk to other patients.
UWA has taken responsible and considered measures to ensure the wellbeing of all our students and staff. This means anybody who has needed to follow precautionary Federal health advice and isolate themselves has done so and has now met all necessary health requirements to re-join us on campus.
As you will be aware, there are some in the student community who will not be able to join us on campus for either orientation or the start of semester due to the current Australian Government travel restrictions.
The University is in regular contact with those students impacted by this global incident to reiterate our collective message of support and to remind them our thoughts remain with them and their families during this very difficult time
We are very much looking forward to welcoming all of our students to campus as and when they are able to attend classes; to continue to learn, work and connect as a united, rich and diverse student cohort.
I'm always heartened by the compassion and kindness of our student community – your generosity, optimism and goodwill towards one another is what makes our campus welcoming, friendly and vibrant. As a community, we continue to stand together to recognise and support those that have been impacted by this global incident.
I wish you a safe and positive start to the academic year and trust you will be kind and caring towards one another throughout the semester and year ahead.
Sincerely,
Professor Dawn Freshwater
Vice-Chancellor
Tags
Groups

UWA Forward