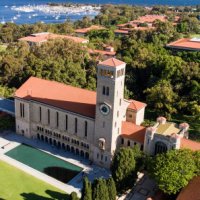 Thursday, 13 February 2020
Dear colleagues,
I would like to update you on how we are supporting our students in China whose ability to travel to Perth for Semester 1 classes has been impacted by the current travel restrictions.
Our primary concern is always the safety, health and wellbeing of all our students and staff. We will miss our students who are unable to join us on campus next week, and our thoughts remain with our impacted students and their families during this difficult time.
I would like to thank all of our staff who have been working on academic and pastoral support for impacted students, and who will continue to support these students as they transition into study and life on campus over the coming semester.
On 13 February, the federal government announced a one week extension of the travel restrictions. We remain committed to ensuring that any disruption to students' education at UWA is minimised and as such, we have designed a number of student-centric solutions.
There are also reports that the China is relaxing its restrictions on online learning, so we will be assessing these reports and the extent to which this potential new development could provide further options for how UWA meets the needs of affected students. We will communicate more detail as soon as we can practically do so.
On 12 February, we contacted affected students to advise them of the following options:
Flexible study
Students arriving in Perth by 31 March
Students can start their studies via a blended learning model on 24 February, with lecture recordings and other remote delivery techniques giving them access to the first four weeks of teaching. When they arrive in Perth, we'll work with them on a study plan to ensure they can progress in time for the start of Semester 2 on 27 July (subject to achieving satisfactory academic standards). We will work with them on a unit-by-unit basis to deal with any assessment issues that might arise from their late arrival.
Students arriving in Perth for Semester 2 (27 July)
We will guarantee students a study plan that enables them to catch up on course content and still graduate according to their original schedule. This applies to all students, including those on special pathway programs, who are not scheduled to graduate at the end of Semester 1, 2020. We are still working on solutions for students on a special pathway program who were due to graduate at the end of Semester 1 2020 and we will contact them separately.
We are working on the possibility of continuing to deliver units to students via a blended learning model throughout the remainder of Semester 1. If this is not possible we will find other ways for students to catch up on content. In such a situation their individual study plan may include:
Completing two units in an intensive flexible learning mode, and then catching up on other units once they arrive in Perth
Completing the first four weeks of four units in a flexible learning mode, and finishing these units through face-to-face classes in Perth during non-standard teaching periods
Cross-institutional enrolment as appropriate
Summer and/or winter catch-up units (this may require them to stay in Perth outside of standard semester dates)
Flexible enrolment
We understand the situation is changing rapidly. Affected students will be able to withdraw without academic penalty until the end of semester. Any fees incurred would be credited towards future study at UWA.
If you have students seeking further personalised advice, please ask them to contact [email protected] or call +86 400 120 0259 (toll free number within China) or +61 1800 518 018 (toll free number within Australia) between 10am-4pm (AWST).
UWA's novel coronavirus FAQ page continues to be updated with new information.
We must all continue to act in a kind and respectful manner towards each other. We must not act based on assumed characteristics about any group of people; put simply, viruses do not discriminate and neither do we.
As the situation develops, I will continue to update you on further details of our solutions to support students.
Best wishes
Professor Dawn Freshwater
Vice-Chancellor
Tags
Groups

UWA Forward