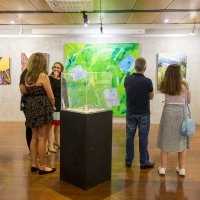 Friday, 7 February 2020
Young local artists and designers were recognised at The University of Western Australia's inaugural Junior Art & Design Award presentation at the School of Design last week.
UWA Fine Arts Lecturer Mike Bianco created the award program (launched in conjunction with the new curriculum in Fine Arts at UWA) to celebrate emerging creative talent in Western Australia.
Students submitted work relating to the environment, science, and storytelling with the overarching theme 'A Changing World' in creative fields including ceramics, drawing, architectural design, fashion design, jewellery design, painting, printmaking, sculpture, and video. Members of UWA's department of Fine Arts and the History of Art judged entries and selected top submissions for an exhibition in the University's Cullity Gallery.
The award attracted entries from roughly 60 high school students, and nearly 100 members of the public attended the award exhibition opening where prizes were presented to 21 winners.
"The students and their parents were delighted with the exhibition, and we look forward to providing this opportunity to high school students again," said Dr Kate Hislop, Head of the UWA School of Design.
Image credit: Emily Brink
Tags
Groups

School of Design