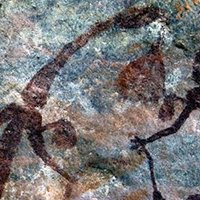 Thursday, 6 February 2020
Archaeologists at The University of Western Australia are part of a national team of researchers that has been able to more accurately date a significant number of the Kimberley's most remarkable ancient rock art to more than 10,000 years ago.

In a landmark paper published today in Science Advances the age of the Gwion Gwion rock art in the East Kimberley is determined to be around 12,000 years old.

Professor Peter Veth, Director of UWA's Oceans Institute and one of the project's chief investigators, said the Kimberley region of Western Australia hosted thousands of rock art sites with some earlier depictions in a remarkably good state of preservation.
"They provide a window into how Aboriginal people thought and lived in a socially and environmentally dynamic world and are of great significance to Kimberley Traditional Owners today," Professor Veth said.

"One of the best known styles showing human figures with complex headdress and body ornaments is the Gwion Gwion. Formerly known as 'Bradshaws', their extraordinary detail challenged European observers and led to more than a century of speculation about their age and authorship."
UWA's other chief investigator and rock art specialist and Dr Sven Ouzman, from the Centre for Rock Art Research and Management, said the dating showed the art was part of the broader archaeological evidence for continuing art production and occupation of the Kimberley by successive generations of Aboriginal people.

The dates have been produced as part of an Australian Research Council Linkage Project – ' Dating the Aboriginal rock art sequence of the Kimberley in NW Australia'', led by the University of Melbourne and working in partnership with Balanggarra and other Aboriginal Corporations.

"The project has pioneered cutting-edge scientific dating techniques to help us better understand the age and archaeological and environmental contexts of Gwion rock art," Dr Ouzman said.

Professor Veth, Dr Ouzman and rock art Research Fellow Dr Sam Harper have worked since 2014 with University of Melbourne researchers and, for this study geo-chronologist, Damien Finch to locate and date 21 human figures in the Gwion Gwion tradition from 14 different sites.

They have worked with partners including the Aboriginal Traditional Owners and Corporations, the University off Wollongong, the Australian Nuclear Science and Technology Organisation (ANSTO), the Department of Biodiversity, Conservation and Attractions, Dunkeld Pastoral and with ongoing support from the Kimberley Foundation Australia.

ANTSO's radiocarbon Accelerator Mass Spectrometry dating of carbon found in mud wasp nests under and overlying Gwion Gwion images has produced  a remarkably consistent suite of dates clustering around 12,000 years ago (11.500-12,700 years ago) with one motif however dating to approximately 17,000 years.

Dr Ouzman said the 21 new dates securely placed this style in the Pleistocene era (greater than 10,000 years).

"While Aborignal people have always known this is their rock art, this current work helps make that knowledge more widely known," he said.

"More exciting dating work awaits, with Gwion Gwion imagery known to occupy the middle part of a very long chronology of making rock art in the Kimberley that continues to this day."

Dr Ouzman said there were Wandjina images of recent memory through to large naturalistic animal depictions stylistically similar to those recently dated to greater than 44,000 years old in Sulawesi.
Media references
Dr Sven Ouzman (UWA Centre for Rock Art Research and Management)08 6488 2863 / 0497 938 486
Simone Hewett (UWA Media and PR Manager)                                                           08 6488 3229 / 0432 637 716
Tags
Channels

International — Media Statements — Regional — Research — Science — University News

Groups

Oceans Institute