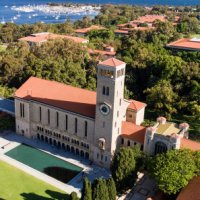 Tuesday, 4 February 2020
Dear Colleagues,
We trust that you have seen the Vice-Chancellor's email to all staff on 2 February 2020 regarding the current travel restrictions from mainland China. We write further to the Vice-Chancellor's email, to provide more advice and information about how we are acting on the advice of health experts to manage the health and safety for the UWA community.
We have established a team from across faculties and functions to help us respond as needed.  The team is reporting daily to the VC and her Executive to ensure that the right responses are being made.  The team is working through issues related to student and staff safety and wellbeing, academic implications, response planning and communications.
We are monitoring events in close partnership with Federal and State health authorities. We are keeping you up-to-date through communications such as this and are also frequently communicating to current and future students and with agents and partners. We have established a dedicated web-site which contains the latest information and advice we have, as well as Frequently Asked Questions, which is being updated regularly. You can access the web-site here: web.uwa.edu.au/novel-coronavirus/ . Enquiries can be made to a dedicated email address at [email protected] .
You can help us by directing students, colleagues or anyone else who has questions about how we are responding to the novel coronavirus to these sources of information.
There are currently no confirmed cases of novel coronavirus in Western Australia. Further, the Department of Health advises that the risk of transmission in Western Australia remains low. There is no immediate threat to the campus or community and we should act together to ensure that our campus and community remains an inclusive and welcoming place to work and study. As an organisation predicated on research and respect we will continue to follow the advice of experts in this area.
All of us must continue to act in a kind and respectful manner towards each other and no one should take actions based on assumed characteristics about any group of people. Put simply, viruses do not discriminate and neither do we. Instead, we should all continue to take reasonable precautions in relation our own health and interaction with others in line with current advice from Department of Health:
wash your hands often with soap and water before and after eating as well as after attending the toilet;
avoid physical contact with others (including touching, hugging and other intimate contact); and
cough and sneeze into your elbow.
It is also recommended to treat any symptoms of illness in the same manner you usually would.  That is you should see a health care professional if you start feeling unwell and share your full history (including travel history) with your health care provider at the time you book your appointment.
If you have any questions relating to this please contact the team at [email protected] .
Yours sincerely,
Professor Simon Biggs
Senior Deputy Vice-Chancellor

Robert Webster
Chief Operating Officer
Tags
Groups

UWA Forward