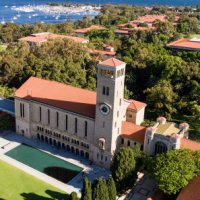 Sunday, 2 February 2020
Dear staff and students,
On February 1 the Australian Government announced that foreign citizens' travelling from China would be unable to enter Australia.  This means that non-Australian citizens, residents, and their dependents are prevented from entering Australia from mainland China.
We understand that this decision has a significant impact on our University community, particularly for those students who we have been looking forward to welcoming as they commence, or return, to continue their UWA journey.
I am writing to assure you that as this rapidly changing situation unfolds, we will work to ensure that those who are affected have the assistance they need.
UWA has response teams in place, working at the highest levels of the University.  The work of these teams includes carefully designed plans to support the health and wellbeing of our staff and students, both locally and overseas and ensure the health and safety of campus residents and visitors.
The outbreak of the novel coronavirus means many in our community may be feeling worried or concerned at a time of year when traditionally we have optimism, academic adventure and the brightness of a new Semester ahead of us.
It is in difficult times however the spirit of the UWA community has been at its most resilient. We have a proud tradition of valuing inclusivity and diversity for all. Once again we will unite as a community and respond with kindness and understanding for our friends, colleagues and student cohort impacted by this global incident.
For more information please contact [email protected] and check our novelcoronavirus FAQs for the latest updates.
Sincerely,
Professor Dawn Freshwater
Vice-Chancellor
Tags
Groups

UWA Forward