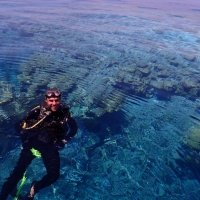 Sunday, 26 January 2020
For Perth born and bred PhD candidate Todd Bond, the ocean has always been a major part of his life. So it's probably little surprise his thesis is firmly anchored in the sea.
"I grew up on and around boats and we were always at Rotto (Rottnest Island) fishing, snorkelling, exploring," says the former Newman College student and UWA grad, 32, whose passion for the natural world has only grown over time.
"There were always questions around 'why' – why fish were doing certain things in the water, why they reacted in the way they did, why they behaved differently depending on the environment – all the sorts of questions inquisitive kids have."
While some kids grow out of that natural curiosity, for a scientist the question of 'why' underpins all. For Todd, his inquisitiveness, combined with a natural bent towards maths and science led to a BSc (2008) in Marine Science at UWA after secondary school.
"I studied marine biology and marine coastal management and understanding each was great, I saw myself as an all-rounder and was really interested in beaches and coastal processes," he says.
"After uni I began working as a coastal geomorphologist and then took up several appointments with UWA as a research assistant in a lab that focused on fish."
It was during this time that Todd was involved in travelling widely, sharing his expertise using baited remote underwater stereo-video systems to study fish and sharks, knowledge he is drawing on extensively for his PhD.
"For my thesis I started looking at fish around subsea pipelines, using my underwater video sampling techniques to understand how fish and fisheries interact with oil and gas infrastructure, in particular on Australia's North West Shelf, and the implications on decommissioning activities," he says.
With Australia facing a multi-billion dollar cost to decommission offshore infrastructure over the next 40 years because current policy favours their removal at 'end of life', Todd's research compares fish assemblage on these to those in adjacent natural habitats.
"I'm investigating whether the complete removal of this infrastructure may pose significant consequence and risk to the environment and fisheries, particularly to the marine community that has developed on and around it over decades of operational life.
"It's important we understand the interaction between pipelines and local fisheries to inform future decisions around how they are managed."
Todd says he's enjoyed interacting with industry since his days as a research assistant and says "there's some amazing science going on in the offices along St George's Terrace".
"I have a great working relationship with people externally. I know that those in the oil and gas industry get a bad rap sometimes but their social licence is huge and those working in this space genuinely have concerns for the same things as everyday Australians," he says.
"We do some very cool science with people in industry."
In 2018, Todd was one of three young and talented marine students chosen to receive a bursary from the Robson and Robertson Award Scheme to support his doctoral research, money he used to visit fellow researchers at the Scottish Association for Marine Science (SAMS).
"While I was there, it just so happened that there was a conference in Glasgow and I ended up winning the best presentation there which set me up for a free ticket to Decom North Sea conference.
"I gave a similar presentation at SAMS and was able to visit labs all around Scotland, talking about some of the things we were doing back in WA, some of the great science we are involved in. The award opened a lot of doors for me, it was really interesting.
"The mindset of 'decommissioning' at Decom North Sea was quite different to what's currently happening here. I was so appreciative to be able to get across this."
And out of hours, what does a busy, ocean-loving scientist and PhD candidate do? "It's pretty standard for a marine biologist," laughs Todd. "I own a boat with a bunch of mates and any decent weekend we're at Rotto diving, or up north diving and camping and just being outside."
Media references
Todd Bond (UWA School of Biological Sciences) +61 8 6488 4733
Tags
Channels

Business and Industry — Research — Science

Groups

Oceans Institute — School of Biological Sciences