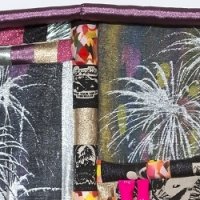 Thursday, 23 January 2020
The Lawrence Wilson Art Gallery at The University of Western Australia, in association with Perth Festival, is pleased to announce its newest exhibition – The Long Kiss Goodbye – opening on Saturday 8 February 2020.
The exhibition explores the ways in which art can be a strategy for addressing and reflecting on intense and difficult feelings.
Curated by Perth Festival Visual Arts Program Associate Gemma Weston, The Long Kiss Goodbye explores how artists transform materials into complex meditations on love, loss, attraction and repulsion.
The exhibition brings together work by an acclaimed group of local and national artists, each with a unique connection to Western Australia, including Sarah Contos (NSW), Penny Coss (WA), Iain Dean (WA), Brent Harris (VIC), Clare Peake (NT) and Michele Elliot with Tender Funerals (NSW).
It takes its title from a work by Perth-born, Sydney-based artist Sarah Contos titled Sarah Contos Presents: The Long Kiss Goodbye. On loan from the Art Gallery of South Australia, this cinema screen-sized quilt won Ms Contos the AGSA's 2017 Ramsay Prize for Contemporary Artists under 40 and is comprised of fragments, artist proofs and studio scraps amassed by Ms Contos over the past decade.
Autobiographical elements appear in a range of works, such as a series of seven sterling silver and garnet rings – one for each day of the week – holding the ashes of visual diaries of Geraldton-born, Alice Springs-based artist Clare Peake.
The ritual-like nature of Ms Peake's work also surfaces in pieces by Michele Elliot and Penny Coss. Michelle Elliot's contribution includes a series of textiles created as part of her role as Artist in Residence at Port Kembla's Tender Funerals. Founded in 2011, Tender Funerals is a community-run, not-for-profit funeral home aiming to reclaim the rites, practices and conversations around death and dying by providing compassionate, meaningful, sustainable and affordable 'holistic care' to individuals and families in the region.
Perth-based artist Penny Coss will debut Anxious Spaces, a new, monumental thirteen-metre painting installation. The work will be altered by Ms Coss in a series of choreographed performances free and open to the public.
Additional works in the exhibition include paintings by Brent Harris and Iain Dean. Melbourne-based Brent Harris, one of Australia's leading artists, and Perth-based artist Iain Dean embarked on a formal mentorship in 2019 supported by the Australia Council for the Arts. As curator Gemma Weston notes, "the duo share an interest in distilling monumental themes and emotions – doubt, trauma, fear, desire, hubris – into deceptively simple compositions that connect or reject moments from the history of art and representation."
UWA Chief Cultural Officer Professor Ted Snell said the exhibition is an excellent example of art's power and potency to think through complex and difficult topics and to offer connection and respite during turbulent times.
"We are delighted to be able to share such a powerful and thought-provoking exhibition with our audiences," Professor Snell said.
Running until 9 May 2020, The Long Kiss Goodbye will be accompanied by a series of talks, tours, a symposium and more. These include Pendulum Acts, Penny Coss's performances, on Saturday 29 February, 2pm – 2.30pm and Friday 20 March, 1.30pm – 2.15pm. For more information visit the LWAG website.
Media references
Megan Hyde (UWA Cultural Precinct) 08 6488 7477
Jess Reid (UWA Media and PR Advisor) 08 6488 6876
Tags
Channels

Arts and Culture — Media Statements — University News

Groups

Faculty of Arts, Business, Law and Education