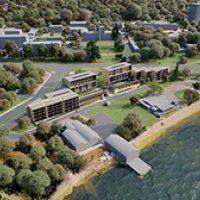 Thursday, 23 January 2020
In November 2018, the City of Perth granted development approval for Forrest Hall (stage 2), with UWA Senate approving the progression of the project in March 2019. The new stage 2 building will be a similar size and complement the existing Forrest Hall development, and is expected to be completed by mid-to-late 2021.
Site works on the new building are scheduled to begin in late January 2020, and will involve initial excavation for the relocation of utility services. The University has appointed civil works contractor CIVCON to undertake this portion of the work. Please be advised that:
Traffic management procedures will be in place on the building site, and along Hackett Drive throughout the site works, and building construction phase
Access to facilities on the foreshore will be maintained at all times
Half of car park 23 will be closed from 28 January 2020 to enable works to be undertaken safely, with the remainder of the car park permanently closing on 3 February 2020
Onsite procedures for working hours, noise and dust will be in place
The University will work to ensure disruptions are kept to a minimum with the works program designed to have the least possible impact on students, staff and our neighbours.
Main building works are expected to commence in April 2020, and will be undertaken by JAXON Construction.
For further information
Should you have any questions or concerns during the construction of the project, please contact UWA Campus Management at [email protected]
For the latest information about the project, visit campus management, or to learn more about the Forrest Research Foundation, visit forrestresearch.org.au
Tags
Groups

Campus Management