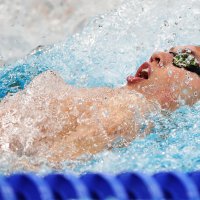 Wednesday, 22 January 2020
The 2020 WA Swimming Championships took place last weekend (17-19 January), with spectacular displays from a range of UWA West Coast Athletes.
There were many highlights across the weekend, with UWA athletes claiming state titles in a range of events.
Student athlete Nic Brown won a hard-fought gold in the 200m Fly less than a second ahead of rival Kieren Pollard, the first of many state titles for UWA West Coast Athletes.
Brianna Throssell won another state title in 100m Free, an event she has come to dominate over the years.
In the men's 100m Free, student athlete Ashton Brinkworth was champion, with fellow UWA West Coast swimmer Joshua Edwards-Smith in third place.
Continuing his strong form, Ashton was also first place in the 200m Free, with Nic Brown a close second.
UWA graduate and Rockingham athlete Holly Barratt was one of the stars of the Championships, winning the state title in 50m Fly,  100m Fly, 50m Free, and 50m Backstroke.
The UWA Men's Relay teams were in top form, with Zac Incerti, Hugh Moran, Adam Sudlow, and Ashton Brinkworth combining for the 4x200m Free Relay, while Joshua Edwards-Smith, Alex Milligan, Grant Irvine, and Ashton Brinkworth taking the win in the 4x100m Medley Relay ahead of UWA West Coast B.
Although they missed out on first place, the UWA West Coast team of Teegan Watson, Caitlyn Ribbons, Brianna Throssell, and Jemima Horwood were a close second in the Women's Open 4x100m Medley.
Congratulations to all UWA athletes who competed in the 2020 WA Swimming Championships, including the many state champions!
Media references
Louis Humberstone
UWA Sport Marketing, Communication and Events Coordinator
6488 4309
Tags
Channels

Sport

Groups

UWA Sport