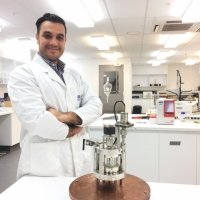 Monday, 20 January 2020
A talented musician, a computer science student who studied how artificial intelligence can be used to solve complex medical problems and an oceanographer researching ways to harness energy during severe weather events are among seven researchers and graduates from The University of Western Australia who have received 2020 Fulbright scholarships.
They will travel to the United States to collaborate with world-class researchers and make important advancements in fields directly affecting humanity.
The Fulbright program is a foreign exchange scholarship program aimed at increasing research collaboration, cultural understanding and the exchange of ideas. It involves more than 160 countries sending recipients to the United States to work on projects to expand global knowledge.
UWA 2020 Fulbright scholars:
Paul Branson, who is a Fulbright Future Scholarship recipient studying oceanography, will examine ocean conditions, specifically looking at how energy converters and devices interact with ocean waves to harness energy during extreme weather events such as during storms. Improved understanding of this area will allow energy device manufactures to improve their designs to minimize engineering costs and damage during extreme conditions.
Francesca Cary, a UWA student studying geology and a genetics recieved a Fulbright Future Scholarship. She is interested in the role that minerals play in the origin of life. She is interested in how this science might help locate potential environments in the solar system where life could exist. She aspires to conduct research in collaboration with NASA to create technologies designed to detect signs of life on other planets.
Dr Martin Ebert, a UWA medical physicist who was awarded a Fulbright Future Scholarship will use medical imaging to gain insight into why cancer progresses and why it becomes resistant to treatment. For his Fulbright Future Scholarship, Martin will be looking at techniques associated with image processing and machine learning to advance molecular imaging in oncology and gain insights into what can stop cancers progressing.
Liam Tay Kearney, a UWA graduate, was awarded a Fulbright Anne Wexler Scholarship in Public Policy. He will focus on changing patterns of trade and foreign investment, and their implications for developing economies. He plans to pursue a master's degree in the U.S.
UWA graduate and talented musician Michael Lukin received a WA Fulbright Scholarship. He will will use his scholarship to study a Master of Music in conducting which he hopes to use to educate and provide opportunities for future generations of musicians in Australia.
Arman Siahvashi is a Fulbright Future Scholarship recipient who will establish new collaborations and work with the world's best researchers to generate unique data with direct impact on the LNG industry and space science. His work seeks to reduce carbon emissions, improve LNG safety and risk assessments and drive economic growth and sustainable development.
UWA graduate Isaac Ward, who is studying computer science, recieved a Fulbright Future Scholarship. He will apply artificial intelligence to the diagnosis of cardiovascular diseases, creating algorithms to mimic complex human functions. He intends to improve the standard of Australian healthcare by using this knowledge to address medical industry problems.
UWA Vice-Chancellor Professor Dawn Freshwater congratulated the recipients.
"Being selected as a scholar for the prestigious Fulbright program is a tremendous achievement," Professor Freshwater said.
"Fulbright scholars contribute their expertise and learn from other global leaders in all sorts of fields. They improve people's quality of life across the world and help to solve some of the most complex problems we face."
The scholars will be officially announced at a Presentation Gala Dinner in Canberra at Parliament House on 27 February 2020.
Image: One of the scholarship recipients, Arman Siahvashi, is pictured.
Media references
Jess Reid (UWA Media and PR Adviser) 08 6488 6876
Tags
Channels

Awards and Prizes — Media Statements — Research — Science — Students — University News

Groups

Faculty of Arts, Business, Law and Education — Faculty of Engineering and Mathematical Sciences — Faculty of Health and Medical Sciences — Science Matters