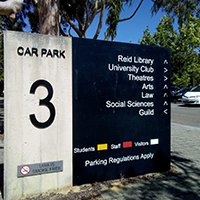 Tuesday, 14 January 2020
From 20 January until 15 February , maintenance works will be taking place in Car Park 3 (outside Reid Library) and Hackett Entrance 1 (adjacent to the University Club).
Car Park 3
The majority of Car Park 3 will be closed from 20 January until 15 February . Affected bays will be at the centre and southern side of the carpark, as shown by the red dotted line in the below diagram. The nearest available parking will be Car Park 4 (in front of Oak Lawn). View the UWA parking map .
Hackett Entrance 1
Hackett Entrance 1 (opposite Car Park 3) will be closed from approximately 31 January until 1 February .
During this closure, vehicles will be able to enter the inner ring road via Hackett Entrance 2 (south of Hackett Entrance 1).
Local traffic management and signage will be in place.
Please note that all dates are approximations and subject to change.
For further information, contact Jedd Van Wyk, Project Manager at [email protected] .
Tags
Groups

Campus Management