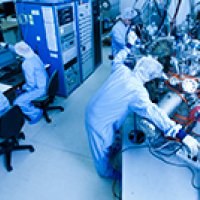 Tuesday, 7 January 2020
Western Australia's fabrication and manufacturing capabilities have received a $9 million boost thanks to new funding from the National Collaborative Research Infrastructure Strategy (NCRIS), the Department of Jobs, Tourism, Science and Innovation and UWA.
The funding injection will allow UWA's Microelectronics Research Group to expand the UWA-based WA node of NCRIS' Australian National Fabrication Facility (ANFF-WA) over the next three years.
The research infrastructure platform assists micro and nanofabrication related research, enabling projects in the space, defence, and advanced sensing and quantum technologies.
The facility has modern capabilities in the fields of Infrared Technologies and Micro-electromechanical Systems.
ANFF-WA Facility Manager Associate Professor Mariusz Martyniuk said the investment would allow Western Australia to remain at the forefront of international research excellence.
"We will be able to conduct both basic and applied research to support the development of new technologies," he said.
"Our state-of-the-art facilities will enable research training and contribute to providing a new skilled workforce relevant to the industries and economies of the future.
"Our research with industry collaborators will potentially lead to the creation of new high-tech companies."
The impact of these new technologies will extend far beyond UWA and local researchers. The ANFF-WA shares its unique facilities with researchers from industry and academia on an open-access basis, heavily contributing to cross-institutional research and the development of new commercial opportunities.
In the last year alone, ANFF-WA was accessed by over 156 users, supporting nearly 20,000 hours of research, including over 6,000 hours relating to industry. ANFF-WA is a celebrated part of the national ANFF network, which provides access to more than 500 micro-and nano-fabrication capabilities at 21 institutions throughout Australia.
Tags
Channels

Research

Groups

UWA Forward