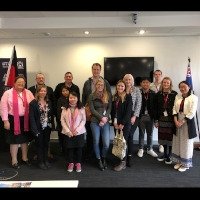 Wednesday, 18 December 2019
More than 120 UWA students have taken part in an innovative leadership program to enhance cultural intelligence, adaptability and collaboration.
It is the second time the Common Purpose Global Leadership Experience has been run in Western Australia, thanks to a partnership between UWA and Rio Tinto.
The leadership program was held over four days in July this year. UWA students from a diverse range of studies, ages and cultural backgrounds explored key themes in leadership, diversity, inclusion and teamwork.
In groups, students were tasked with developing and pitching a solution to the challenge – 'How do we ensure technological innovation delivers societal as well as economic value in Perth?'
To gather different perspectives, participants heard from industry leaders and took part in immersion visits with local corporate, government and not-for-profit organisations, including Microsoft, Westpac, the Public Transport Authority and SecondBite.
Postgraduate Strategic Communications student Cara Tregonning said one of the best things about the program was the opportunity to get to know and work with students from outside her course discipline.
"I saw how each person in my team was able to bring their own unique point of view and knowledge to the project, by drawing on their studies, work experience and cultural background," she said.
"The experience really reinforced how important it is for leaders to be able to communicate and work across cultural, sector and geographical boundaries. To tackle the big challenges of our time, we need to be able to draw on a wide range of skills and experiences."
Now in its 30th year, Common Purpose is a not-for-profit organisation, delivering leadership programs in 100 cities worldwide.
Tags
Groups

Education Quarterly